Disclosure: This post about making DIY Elijah, Miriam, and Kiddush cups for Passover contains affiliate links. What this means is that if you click over to one of the provided links and purchase something, I get a small commission at no added cost to you. Thank you for helping to support Creative Cynchronicity!
We celebrate Passover in my family. This may be surprising to some since we are Catholic not Jewish but it began when my daughter was young. I was a teacher in the Catholic school board. Every year in our religious curriculum, we introduced another Jewish holiday to our students. The reason for this is simple. Jesus was a Jew.
We, as Christians, are descended from Jews; we share a history with the Jewish people. When I taught Grade 8, we spent a lot of time talking about Jesus' life. We learned about how He lived, what He did during His life, what His society was like.
When it comes down to it, the Last Supper took place at a Passover Seder. Jesus was celebrating the Passover with His friends. I felt that taking part in a Seder ourselves would add even more meaning to Holy Week.  I began this tradition with my students as well as my family.
It has, in fact, become the most meaningful, and our favorite part of the whole Easter season. Our full Passover Seder celebration is here. Note:  We have since added in Miriam's cup as part of it.
Why We Make DIY Elijah, Miriam, and Kiddush cups for Passover
In the past we have just used whatever wine glasses we had on hand for the Kiddush glasses as well as the glasses for Elijah and Miriam  Symbolic drinks of wine (or we used white grape juice for the kids) are taken during parts of the Seder and a symbolic glass of wine for Elijah and a symbolic glass of water for Miriam are placed on the table during the Seder.
Elijah's cup is meant to represent and honor the prophet and his importance in the Jewish faith.  Miriam's cup is a newer tradition and not followed by all but again, it honors her as a prophet in her own right and allows the opportunity to acknowledge the importance of women in general.
Making Elijah, Miriam, and Kiddush Cups for Passover
This year I thought it would be fun to make some special cups to use during the Seder. I could have purchased actual glass wine glasses at the dollar store and used glass paints or a glass bond to glue items onto them for more permanence but that is something I'd rather do as a family.
I think it would make for a lovely family activity for each of us to embellish and decorate our own glasses as we would like as well as those for Miriam and Elijah– and it would be a wonderful way to welcome my future son-in-law into the family and our traditions too. For now, I have used plastic glasses – which would be perfect if you're working with small children. If you can't find these at the dollar store, Amazon carries them as well.
Aleene's Quick Dry Tacky Glue 8oz
Darice Tissue Paper Squares, 1.4 by 1.4-Inch, Bright, 3000-Pack
Glass Gems for Vase Accents and Crafting (2 Bags, Mixed Color Gems)
Party Essentials Hard Plastic Two Piece 5.5-Ounce Wine Glasses, Clear, Pack of 40
Red Wine Glass By Ikea- Svalka Series SET OF 6, 10 0Z
Honbay 100 Gram Mixed Sequins and Spangles Craft Supplies, Assorted Shapes, Color and Sizes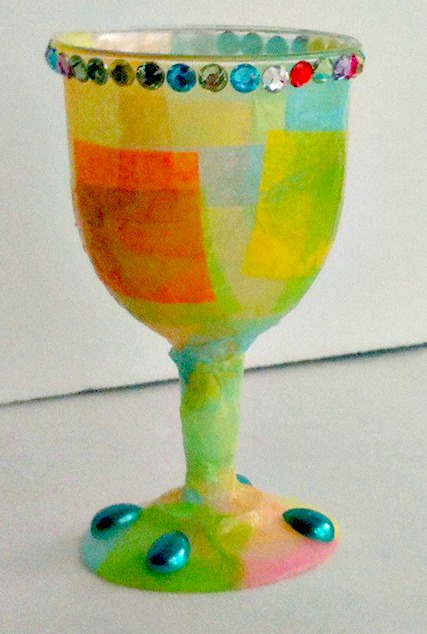 Technique for First Glass:
For one glass, I began by using Mod Podge to glue on little squares of tissue paper – they actually sell the tissue paper pre-cut into these squares at Dollarama making it very quick and convenient.  I put another coat of Mod Podge over the tissue paper that was glued on to give it some extra durability.
The little rhinestones are strips of adhesive ones also from the dollar store that are sold for decorating items like cell phones.  Finally, on the base, I added a few more decorative embellishments – again these were in a package from Dollarama that had sequins, rhinestones, and other types of bling in them.  I used Aleene's Tacky Glue to apply these.It's my favourite for this type of task.
Technique for the Second Glass
For the second glass, I started with those flat glass marbles (from….you guessed it….the dollar store) and glued them on with the tacky glue.  I found it best to turn the glass upside down when adding the marbles. That way they didn't just slip right off with the glue.  Let it dry really thoroughly before moving on.
You could also use a glue gun with warm glue but it might show through the marbles more.  More of the bits of bling added to that glass and it was complete.  These two glasses are intended for the Elijah and Miriam glasses – if making some for your own glasses, you'll want to leave some space at the top of the glass to be able to place your mouth and drink from the glass!
You can find our (modified) Passover Seder here.