Even though I'm not Irish, for me, it's just not St. Patrick's Day without Irish Stew and Irish Soda Bread. I used to work in an Irish pub and these were on the regular menu. And for good reason too – they make for such a yummy hearty meal any day.
Nowadays, instead of heading out to a pub, I make these recipes at home for my family. This delicious Irish Soda Bread recipe will have you wanting to kick up your heels and dance an Irish jig!
So, why is it called "soda" bread?
Well, it's a little bit different than your typical bread. The main difference is that it uses baking soda instead of yeast as a leavening agent. The baking soda and the buttermilk form a chemical reaction that creates carbon dioxide bubbles. It's also a quick bread recipe meaning that it doesn't require as much time, effort, or precision as typical yeast breads do.
The flour in Ireland is usually made from soft wheat, so to get the closest to traditional soda bread, it's best to make it with cake or pastry flour instead of bread flour as these have lower amounts of gluten in them. Because the leavening action begins as soon as the ingredients are combined, you should take care not to overmix the dough and it should not be kneaded.
What to Serve it With:
This bread recipe creates a dense but not heavy loaf. It has a touch of sweetness but is not overly sweet, making it ideal to accompany soups and stews. It's lovely with a bit of cream cheese, jam, or goat cheese spread on it, but I'll admit, I love to eat it just as is! Try it with Irish Stew or alongside some Corned Beef and Cabbage for a traditional meal.
You can create the classic round loaf on a baking sheet or in a round cake pan or cast iron skilled. The bread freezes well. I like to slice it first and freeze a few slices per package so that I can pull some out for a simple breakfast or snack or as a side when I'm having a bowl of soup or stew for lunch or dinner.
As with most recipes, there are some regional variations to Irish Soda Bread. Leave out the dried fruits completely. Or substitute seeds like caraway seeds for another taste. I'm going to try making it with sunflower seeds – I think that would add a really delicious crunch and flavor to it!
Traditional Irish Soda Bread Recipe
Irish Soda Bread
This delicious recipe for traditional Irish Soda Bread will have you wanting to kick up your heels and dance an Irish jig!
Ingredients
4

cups

flour

1 1/2

tbsp

sugar

Increase for a sweeter bread or eliminate entirely if you prefer.

1

tsp

salt

1

tsp

baking soda

5

tbsp

butter

really cold, cut in small cubes, unsalted is best

1

cup

raisins

or other dried fruits like cranberries or apples

1

egg

large

1 3/4

cups

buttermilk
Instructions
Preheat oven to 400 degrees F.

Prepare your baking pan. Cover a baking sheet with parchment paper or use a Silpat OR use a greased 9-10 inch cake pan or pie plate OR use a seasoned 10-12 inch cast iron skillet.

Whisk together the flour, sugar, salt, and baking soda.

Cut in the butter using a pastry cutter or 2 table knives. You can even use your fingers if you prefer. You want a coarse dough with a crumb-like texture.

In a separate bowl, eat the egg slightly. Whisk in the buttermilk.


Mix the buttermilk mixture into the flour mixture. You want to gently mix without overmixing. You can turn the dough out onto a board and use your hands for mixing if that's easier once the dough stiffens up a bit, but you don't really want to knead it the way you would with yeast bread.

If the dough is too sticky, you can add more flour, a bit at a time until it comes together.

Form the dough into a round loaf. Place in your baking pan. Score an X into the top of the loaf to allow for even baking in the middle.

Bake for 45 minutes until the bread is golden in color and the center is baked through. When you give the loaf a tap, it should sound hollow inside. I like to check on the loaf about halfway through baking to ensure that it's not browning too quickly. If it is, I cover the top loosely with a piece of foil.

This bread tends to go stale fairly quickly because of its texture. Serve warm from the oven or within a couple of days. If you have leftovers, freeze for future use.
Nutrition Facts
Irish Soda Bread
Amount Per Serving
Calories 262
Calories from Fat 54
% Daily Value*
Fat 6g9%
Cholesterol 30mg10%
Sodium 387mg17%
Potassium 196mg6%
Carbohydrates 44g15%
Protein 6g12%
Vitamin A 225IU5%
Vitamin C 0.7mg1%
Calcium 53mg5%
Iron 2.3mg13%
* Percent Daily Values are based on a 2000 calorie diet.
Don't have any buttermilk on hand? Don't let that stop you from making this yummy bread! Use 1 tablespoon of vinegar or lemon juice and then enough milk to measure 1 cup. Give it a stir and let it stand for 5-10 minutes. This is a good substitute for buttermilk that I've used many times with great success.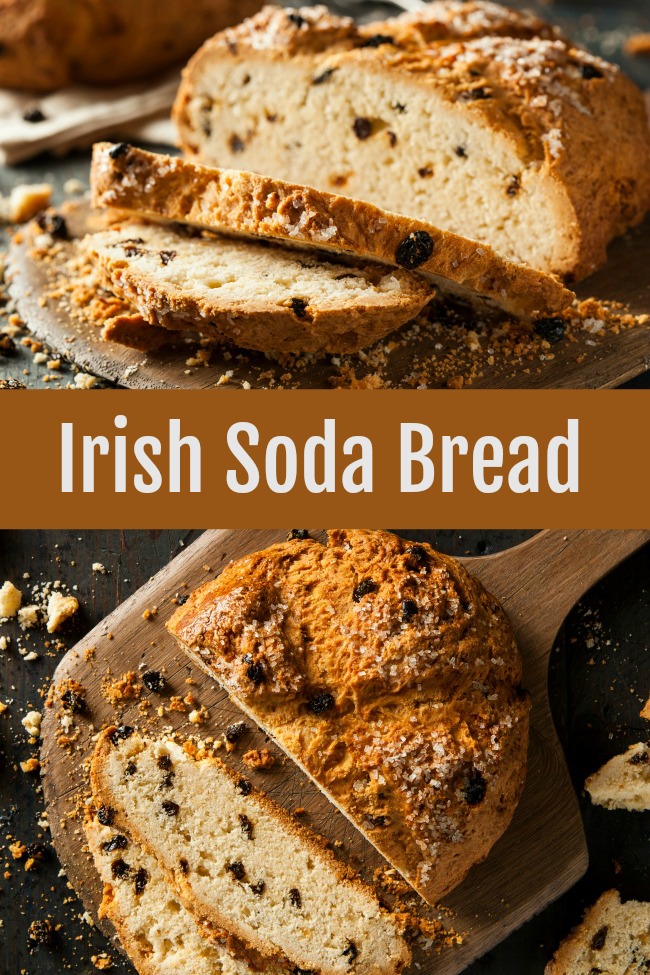 If you don't want a full loaf of bread, try making these Irish Soda Bread Cookies instead!
You can find my Irish stew recipe here.