This easy DIY Santa Claus Door Decor is just that – easy. I could call it a macrame project but really you just use one of the easiest knots – the larks head knot – over and over again. It's a perfect project for older kids to make too. As long as they can master that one simple knot, they can easily create this project. You can make a large one, like I did, to hang on your door or in a window or make them ornament sized. You decide!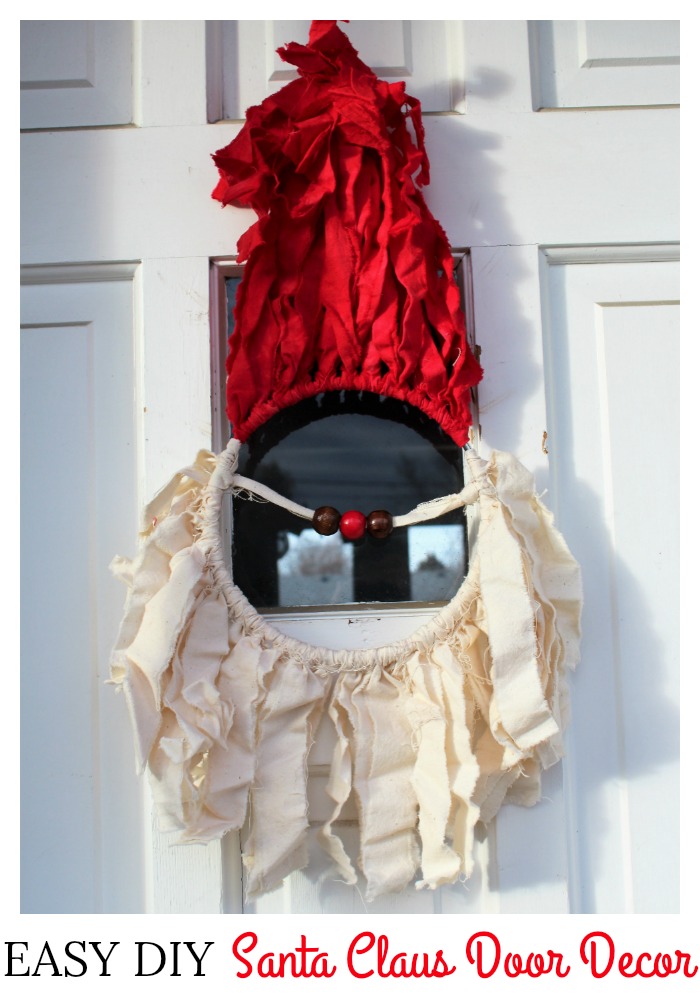 ---
Welcome to the third annual 12 Days of Christmas Blog Hop!
Stop by every day from December first through the twelfth for new ideas you can use to make your season brighter! Today, we are all sharing wreaths or other door decor ideas.
Meet Your Hosts
They have all been busy as Elves creating, decorating, cooking and crafting tons of new ideas for you to try this holiday season!
Shirley~Intelligent Domestications I Alli~An Alli Event I Michelle~Our Crafty Mom I Marie~DIY Adulation
Erlene~My Pinterventures I Beverly~Across The Blvd. I Debra~Shoppe No. 5 I Victoria~Dazzle While Frazzled
Megan~C'mon Get Crafty I Michelle~Michelle James Designs I Amanda~Domestically Creative
Deborah~Salvage Sister & Mister I Jeanie~Create & Babble I Sherry~Olives & Okra
Jenny~Cookies Coffee & Crafts I Emily~Domestic Deadline I Bonbon~Farmhouse 40
Leanna~Of Faeries & Fauna I Pam Larmore~P.S. I Love You Crafts I Kelly~North Country Nest I
Marie~The Inspiration Vault I Gail~Purple Hues and Me I Lynne~My Family Thyme I
Karen~Dragonfly and Lily Pads I Trisha~Blowing Away Out West Lorrin~Embrace The Perfect Mess I
Terri~Christmas Tree Lane I Sam~Raggedy Bits I Cyn~Creative Cynchronicity Valeria~Val Event Gal
Yami~The Latina Next Door I Jeannee~Centsably Creative I Tania~Little Vintage Cottage
Lauren~Wonderfully Made I Vanessa~DIY 180 I Kimberly~A Wonderful Thought I
Kim~Everyday Parties I Dru~Polka Dot Poplars
---
Easy DIY Santa Claus Door Decor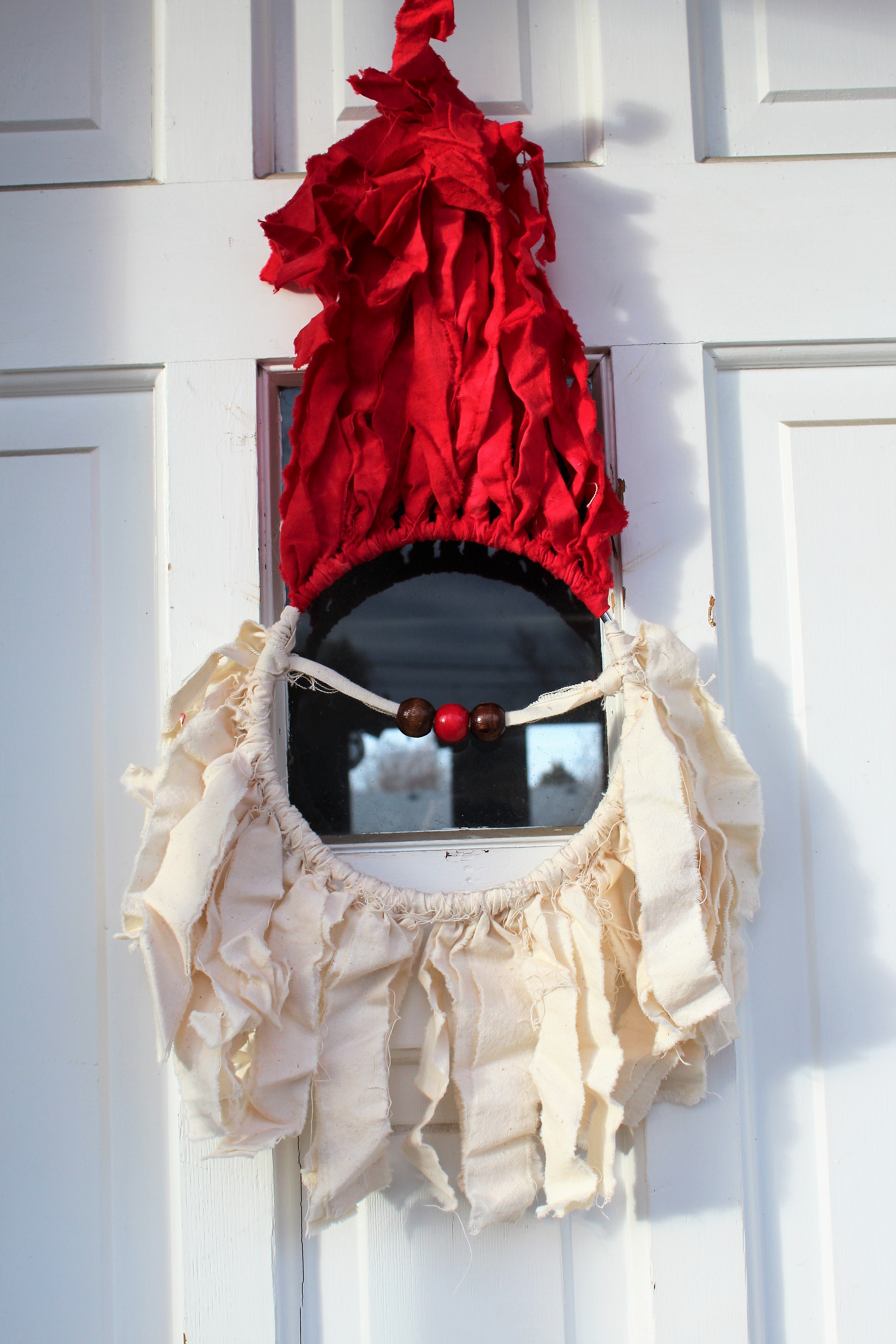 Materials needed:
A metal or wooden ring: For ornaments, I have used rings as small as 1 1/2-2 inches and for door decor, as large as 14 inches in diameter.
Red and white macrame cord or yarn or embroidery floss (if making really small ones). Ribbon would be really pretty too! For this one, I used muslin fabric. I tore it into strips to give it that rustic look. For the red part, I used fabric dye to colour the plain muslin.
3 beads: 2 for Santa's eyes (whatever colour you would like them to be) and a red one for his nose. The size is dependent on the size of the ring (his face) that you use. You just want it to look proportional.
A pair of scissors.
Any embellishments you might wish to add. I have tied pieces of holly onto some of the bigger ones sometimes and used jingle bells on the smaller ones.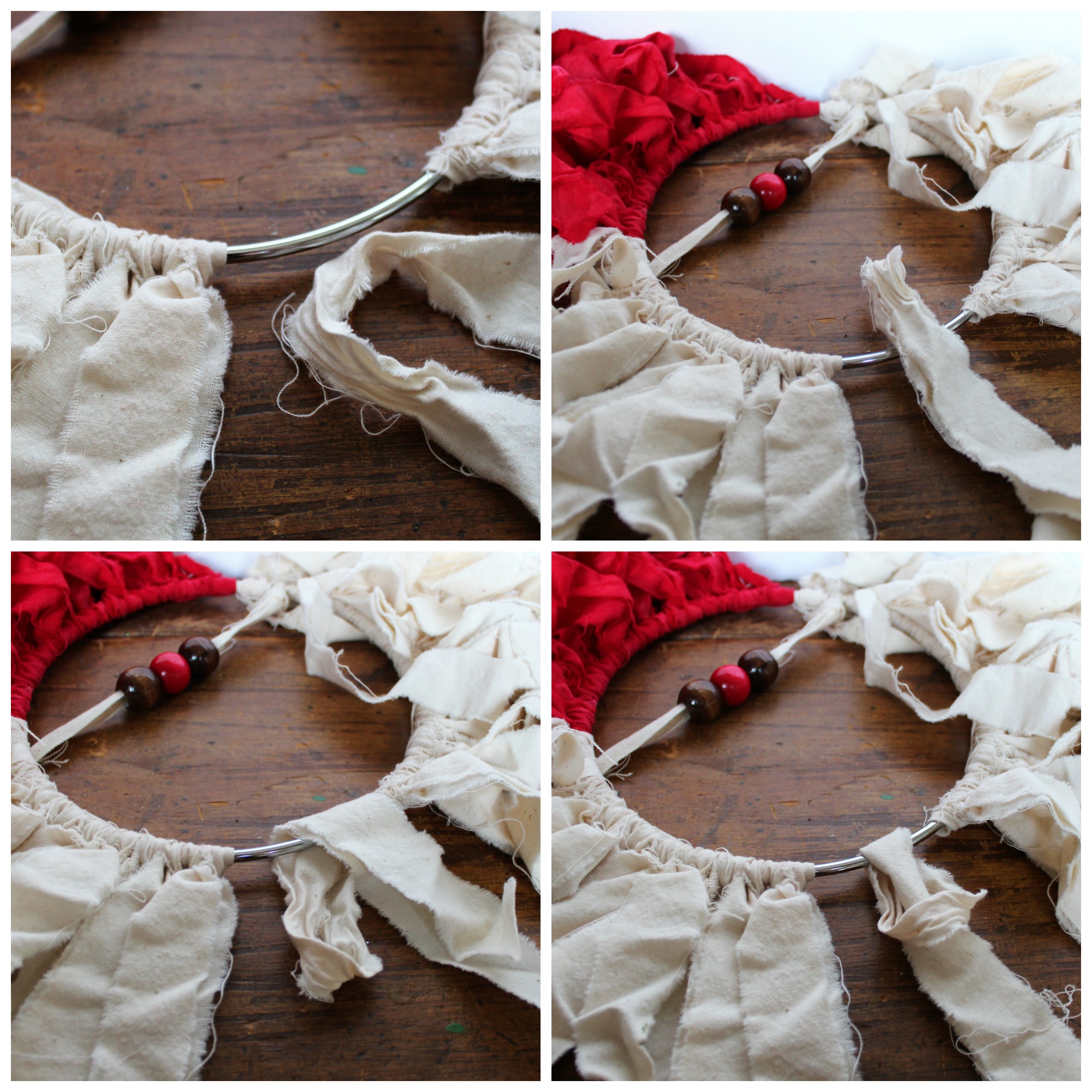 Instructions:
You'll want to begin by cutting your yarn/fabric strips/macrame cord etc into the lengths you will need. My ring is 15 inches in diameter and I cut my fabric strips into 36 inch lengths. If in doubt, it's always better to go longer than shorter because you can always trim it after it's complete.
You will need enough strips to go about a third of the way around the ring with white and then about a third of the way around the ring with red. You will also need an extra strip of red to tie off the hat and an extra strip of white to make the face.
To make the larks head knots, you want to fold a strip of fabric in half. Place the loop (where the fold is) on the ring as shown in the photos. Fold it over the ring towards the back and then pull the ends of the fabric strip through the loop.
As you are making the knots, just give them a double check and straighten them out if they get twisted. You want them all to lie properly on the ring. Once you are satisfied that they are straight, pull to tighten. Repeat until you have completed all of the strips.
The beard just hangs as is but once you have completed all of the knots for the hat, you need to gather them up and use another piece of red to tie them together. This will form the hat shape. Note: I use the excess part of this red tie to create a hanger for the Santa.
Now to make the face. String the beads (with the red one in the middle) onto a white strip. Tie it at each end to secure it onto the ring.
Trim any stray pieces as needed and hang up your Santa face!
---
Be sure to visit our fellow 12 Days of Christmas Bloggers below for even more creative ideas this holiday season!