Welcome back to another week in June and another weekly menu plan! We're serving up some of our favorite comfort food and trying out a new simple chicken fingers recipe.
I'm often asked about these meal plans. Specifically, why do I bother to take the time to make them? Well, it's simple. They save me time, they save me money, and they save me aggravation!
Now that I've been making these menu plans for a while, I've found that they take me very little time to put together. If I'm feeling a little "stale" or uninspired, I simply look back through previous meal plans for ideas.
The amount of time it takes me each week (anywhere from 10 minutes to 30 minutes depending on how much time I want to spend on it) is far less than the amount of time we would spend every afternoon trying to figure it out day by day!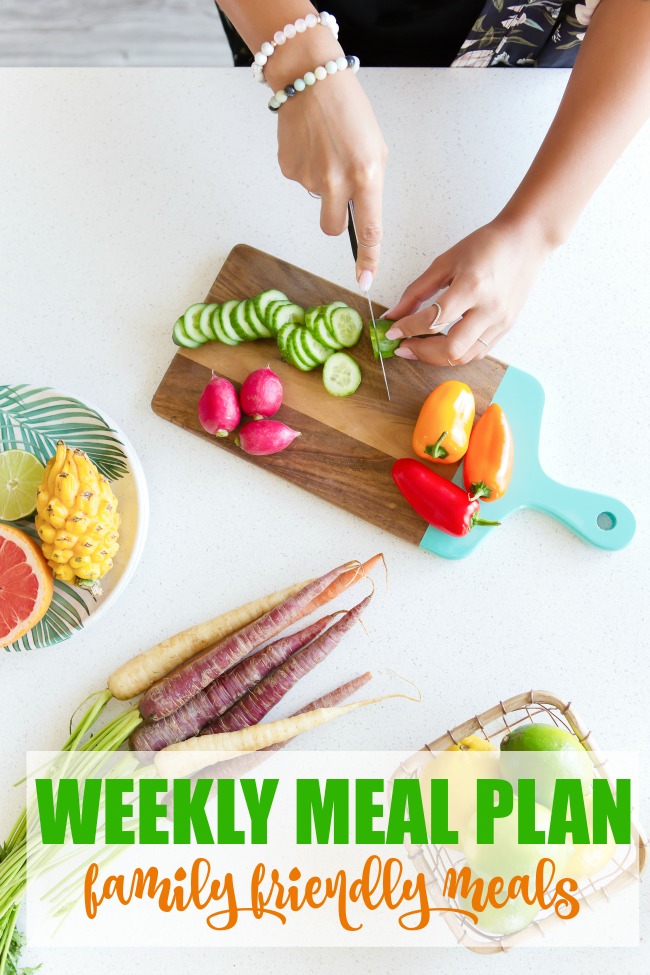 WEEKLY MENU PLAN
If you're ready to embrace meal planning, but unsure of where to start, simply use my menu plans as inspiration.
Monday
Spaghetti with chicken parm meatballs, garlic bread, Caesar salad
Tuesday
Applesauce meatloaf, mashed potatoes, corn, green beans
Wednesday
Chicken fingers (Cut up chicken into strips, dip into combination of 1/2 cup orange marmalade, 1/2 tsp ginger, 1/4 tsp garlic, and 2 T soy sauce, then into crushed Rice Krispies. Bake at 400 F for about half an hour). Oven fries (I don't peel the potatoes. Wash, cut into strips. Dip in egg white and bake until golden and crispy.). Broccoli and carrots with Ranch dip.
Thursday
Pork chops with rice. Roasted Brussels sprouts and squash.
Friday
Make your own mini pizzas. Can use regular mini pizza crusts or English muffins or bagels. Add favorite toppings. Side salad.
Saturday
Chicken quesadillas with favorite toppings. Guacamole and chips.
Sunday
Dr. Pepper pulled pork in the slow cooker. Served on buns with coleslaw and potato salad.
What are you having for dinner this week?
For More Menu Planning Ideas:
Looking for some super quick and easy meals? Check out these delicious 15 minute main dish recipes.
Save time and effort with 20 Easy Meals Using Rotisserie Chicken
Here's a full 30 days worth of quick, easy, and inexpensive main dish ideas here.
Remember that if you're looking for new plans or perhaps aren't that fond of the ideas in the current plan, you can simply go through the archives for my previous meal plans.
And check out more meal plan ideas over on Menu Plan Monday at Orgjunkie.com