I can't believe it. My grandson turns 1 in 5 days. Where has the past year gone? It has flown by but it has been amazing. He has such a fun personality and every day is made better because he's here. I absolutely cannot wait to see what the future holds for him!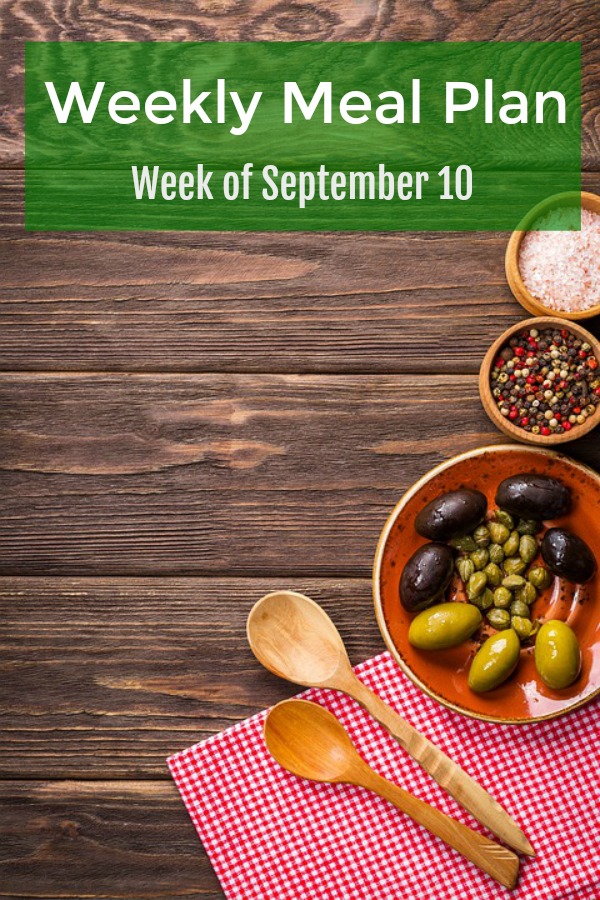 The other fun thing about him turning 1 is that we're able to include him now in a lot of the same meal plans we're having. My little moonpie has a big appetite and so far, he's not a very picky eater. His favorite foods are pretty much anything green or orange! 
WEEKLY MENU PLAN FOR WEEK OF SEPTEMBER 10
YOUR GUIDE TO THE MEALS IN MY MENU PLANS:
FF = FREEZER FRIENDLY
SC = SLOW COOKER
MF = MEAT FREE
PLO = PLANNED LEFTOVERS
MA – MAKE AHEAD
BBQ – GRILLED FOOD
I'm normally also planning extra simple meals on Saturdays and Sundays so that we truly can take a Sabbath and spend some time focusing on family and fun! 
Week of September 10
Monday
Pork tenderloin with blueberry maple compote (FF), egg noodles, peas, butternut squash
Tuesday 
Lemon garlic herb roast chicken (save leftovers for Thursday) (PLO), roast potatoes, carrots, green beans
Wednesday
Cheddar bacon pineapple burgers (FF) (BBQ), oven fries, coleslaw
Thursday 
Chicken fried rice (PLO from Tuesday) with broccoli and carrots
Friday
Meat Free Friday: Spinach Goat Cheese Frittata, tossed green salad
Saturday
Walter's First Birthday Party! – Sausages/hot dogs, slow cooker pulled chicken, German potato salad, tortellini salad, baked beans, veggie tray, fruit tray 
Sunday 
Super Simple Dinner: Flat iron steaks (BBQ) (FF), leftover side dishes from yesterday
Looking for some super quick and easy meals? Check out these delicious 15 minute main dish recipes.
Even more quick and easy meals. Twenty super simple 15 minute meal ideas.
Here's a full 30 days worth of quick, easy, and inexpensive main dish ideas here.
You can find more of my menu plans here.
I've also linked up to Menu Plan Monday over on OrgJunkie. You can find more yummy meal plan inspiration there.