If you follow me on Instagram, you are probably aware of the difficult week we have had. For some reason, I was able to talk about it there, but I'm not quite ready to go into details here. Suffice it to say, it was one of the hardest weeks ever and I'm still physically and emotionally exhausted.
Because of that, I'm giving myself some grace this week with some super simple meals and old standbys. It is my daughter's birthday on Thursday, so we're celebrating with one of her favorites and trying to make it a special day. No matter what you are going through out there, I'm sure you could use a little grace right now too. Give yourself a break and take some time to recharge.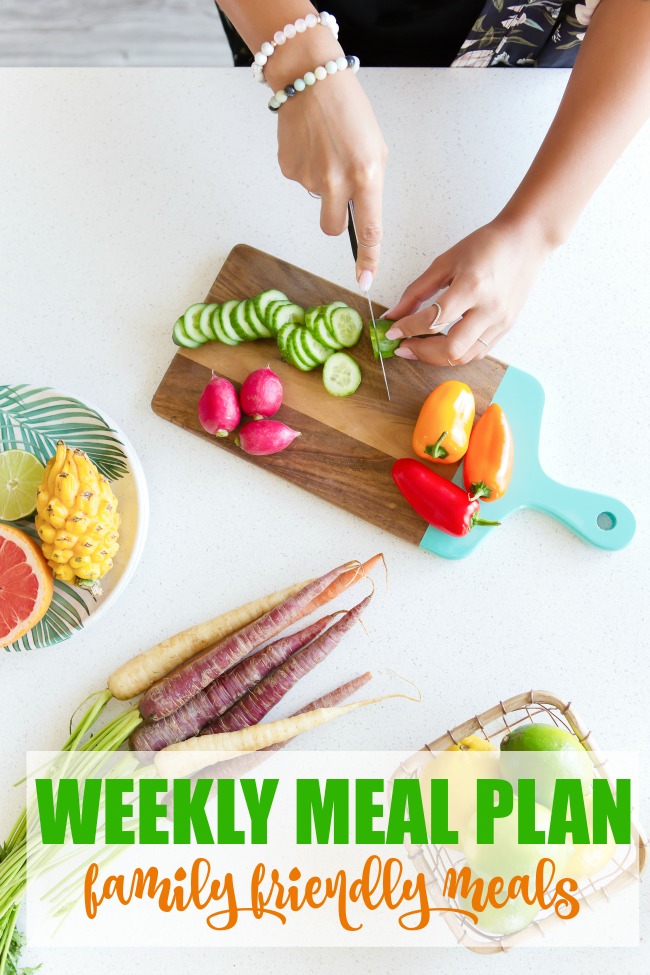 YOUR GUIDE TO THE MEALS IN MY MEAL PLANS:
FF = FREEZER FRIENDLY
SC = SLOW COOKER
MF = MEAT FREE
PLO = PLANNED LEFTOVERS
MA – MAKE AHEAD
BBQ – GRILLED FOOD
I'm normally also planning extra simple meals on Saturdays and Sundays so that we truly can take a Sabbath and spend some time focusing on family and fun!
Weekly Meal Plan
You will find that most of these meals are under $10 based on prices (sale prices where possible) in London, Ontario, Canada. We are feeding a family of 4 – 3 adults and 1 toddler, all with healthy appetites. We generally have some leftovers from our meals and if these aren't being used as part of another meal, they are used for lunches throughout the week.
Prices are based mostly on those at No Frills and FreshCo, the two grocery stores we frequent most often with an occasional shop at Loblaws for some of the more gourmet items (and because it's just my favorite store – it even has a Starbucks!). I'm always sure to search the FLIPP app for the best deals!
Monday
Beercan Chicken, (BBQ) (PLO), tortellini salad, green beans, butternut squash
Tuesday 
Burgers in buns or lettuce wraps, oven sweet potato fries (cut potatoes into strips – no peeling needed – dip in beaten egg white to help them get crispy – bake at 450 F on a baking sheet sprayed with cooking spray until crunchy outside and cooked through), tossed green salad
Wednesday
(Using leftover chicken) Chicken quesadillas, Mexican rice, raw veggies and dip (cutting up extra for the weekend)
Thursday 
Happy birthday to my beautiful daughter! We're making one of her favorite meals for dinner tonight!
Grilled steak (FF) (BBQ), baked potatoes, corn on the cob
Friday
30 minute Sheet pan fajitas, tortillas, mixed fruit salad
Saturday
Grilled cheese, tomato soup, raw veggies and dip (SS)
Sunday
Slow cooker Dr. Pepper pulled pork sandwiches, bacon cheddar macaroni salad, raw veggies and dip
Breakfasts and Lunches
Leftovers
Canned soups. Frozen soups and chili.
Eggs
Pancakes or waffles (we always have mix on hand)
Oatmeal
Cold cereal
Yogurt and bran cereal parfaits
Toast with jam and goat cheese or peanut butter
Sandwiches – lunch meat or chicken or cheese or cucumber and onions, selection depending on what's on hand and on sale that week. This week we are having some egg salad wraps since both eggs and tortillas were on sale.
Salads – chef's salad with hard boiled eggs, ham, and cheese added, Waldorf salad, Cobb salad
What is on your menu for this week?
Looking for some super quick and easy meals? Check out these delicious 15 minute main dish recipes.
Save time and effort with 20 Easy Meals Using Rotisserie Chicken
Here's a full 30 days worth of quick, easy, and inexpensive main dish ideas here.
You can find more of my menu plans here.
And check out more meal plan ideas over on Menu Plan Monday at Orgjunkie.com