Well, we had a few days of warmer weather (nearly spring-like even!) and then dropped right back into the deep freeze of winter. We've even had 2 snow days (more like ice days) now – first time in 7 years the schools here have been closed. While it's been lovely to have a mid-week break, I'm ready for spring. It's not just the sunshine and longer day – I'm craving loads and loads of fresh local seasonal fruits and veggies!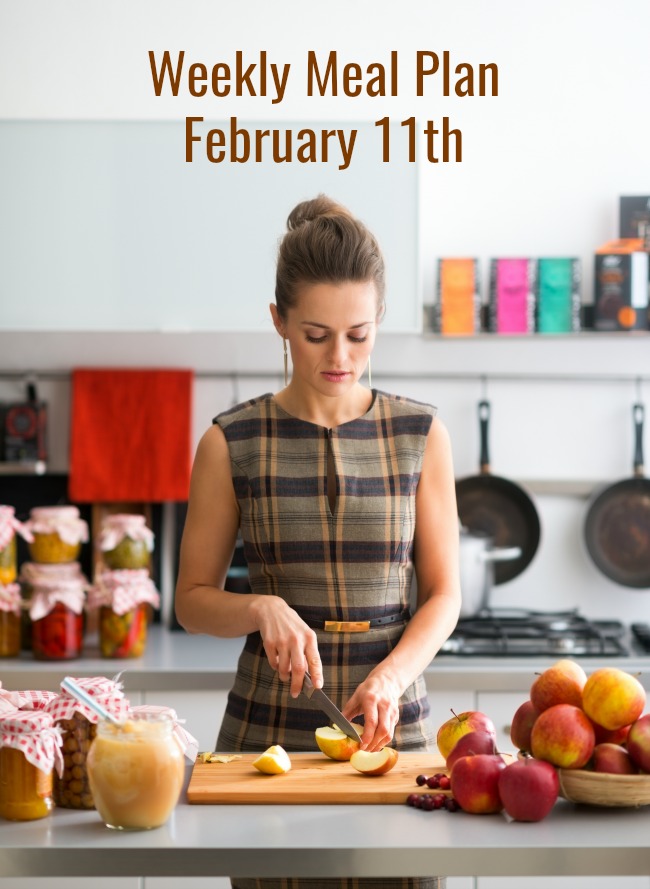 WEEKLY MEAL PLAN
YOUR GUIDE TO THE MEALS IN MY MENU PLANS:
FF = FREEZER FRIENDLY
SC = SLOW COOKER
MF = MEAT FREE
PLO = PLANNED LEFTOVERS
MA – MAKE AHEAD
BBQ – GRILLED FOOD
I'm also planning extra simple meals on Saturdays and Sundays so that we truly can take a Sabbath and spend some time focusing on family and fun!
This Week's Meals
You will find that most of these meals are under $10 based on prices (sale prices where possible) in London, Ontario, Canada. We are feeding a family of 4 – 3 adults and 1 toddler, all with healthy appetites. We generally have some leftovers from our meals and if these aren't being used as part of another meal, they are used for lunches throughout the week.
Prices are based mostly on those at No Frills and FreshCo, the two grocery stores we frequent most often. Lately, Food Basics and Shoppers Drug Mart have had a few good deals and they are very close to our home too. Note: at this time of year, we are mostly using frozen vegetables as they tend to be better quality and have more nutrients than fresh.
We're mostly using items we already have on hand this week. There are some great buys on whole chickens, pork tenderloins,  and beef roasts so we've stocked up with some of those in the freezer.
Monday
Roast chicken (PLO) with potatoes, carrots, and Brussels sprouts
Tuesday
Balsamic glazed pork tenderloin (SC) (PLO), egg noodles, peas, squash
Wednesday
Chicken quesadillas (PLO from Monday), fruit salad
Thursday
Ordering takeout for Valentine's Day.
Friday
Pulled pork sandwiches (PLO from Tuesday), coleslaw, pickles, raw veggies and Ranch dip
Saturday
Breakfast for dinner. Scrambled eggs, bacon, pancakes. Fruit salad.
Sunday
Beef roast, mashed potatoes, Yorkshire pudding, carrots, peas
Breakfasts and Lunches
Leftovers
Canned soups. Frozen soups and chili.
Eggs
Pancakes or waffles (we always have mix on hand)
Oatmeal
Cold cereal
Yogurt
Toast with jam and goat cheese or peanut butter
Sandwiches – lunch meat or chicken or cheese or cucumber and onions, selection depending on what's on hand and on sale that week
Salads
What is on your menu for this week?
Looking for some super quick and easy meals? Check out these delicious 15 minute main dish recipes.
Save time and effort with 20 Easy Meals Using Rotisserie Chicken
Here's a full 30 days worth of quick, easy, and inexpensive main dish ideas here.
You can find more of my menu plans here.
And check out more meal plan ideas over on Menu Plan Monday at Orgjunkie.com