I know what you're thinking. Update your makeup for only $20??? Impossible! But it's not impossible with ELF cosmetics. Just wait and see!
My daughter was home for the long weekend recently and so I decided to take her along with me on my shopping trip for new makeup. It's always good to have someone else whose opinion you value when picking out shades of makeup plus it would make for a fun mother-daughter girls' day out. We made a full day of it including lunch at one of our favourite restaurants.  We started out at Walmart.  You can see our whole shopping trip here.
I was able to get all of these e.l.f. products shown above for just $20.  That includes: concealer, two eye shadow palettes, a dual mascara with both regular and waterproof in one tube, and a new eyelash curler for $1 each.  I also bought wrinkle refiner (I AM over 50 – always love to find products like this!), matte lip colour, black cream eyeliner, tone correcting powder, and contouring blush with bronzing powder.  I never could have afforded to purchase all of these products and make over my entire makeup collection for $20 with any other brands.  Best of all, I was able to try out some new items that I've been looking at for years but felt were too pricey in other lines – the tone correcting powder and the contouring blush/bronzing powder combo for example.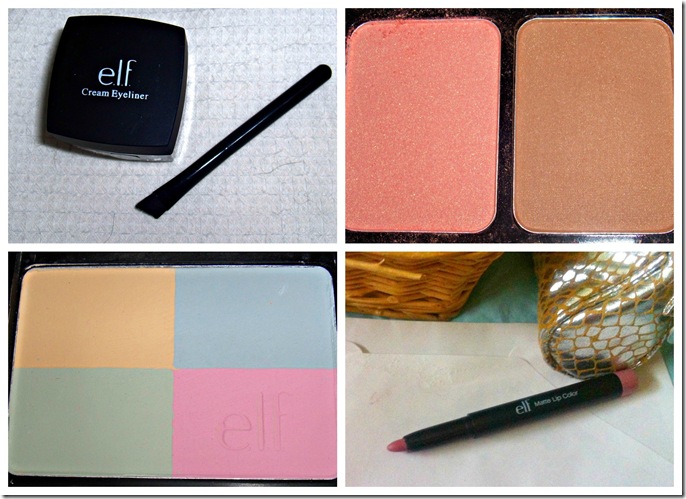 Check out the brush that comes with the cream eyeliner.  It's very different than ones I've seen with eyeliner before and it made it so much easier to use.  It goes on smoothly and evenly and I was able to get a good crisp line.  The contouring blush and bronzing powder allowed me to add a little bit of bone structure into my full round face.  I've seen tone correcting powders before but they all came separately and then you had to figure out where to put each of the colours.  This one can function in that way if you want a little more control in certain areas or you can just swipe your brush across the whole palette and brush over your face for an all in one product.  The matte lip colour goes on beautifully – you have a lot of control with it having a smaller tip than most of the typical lipsticks.  Being a matte product, it stays on for a long time too without the need to reapply.  And, if you want a glossier look, you can add a gloss product on top of it!
You can see in the before and after pictures above how well it helped to even out my skin tone, added some colour and definition to my eyes and lips, and just generally brightened up my appearance! I love my #eyeslipsface now!
Well, what are you waiting for?  Check out e.l.f. cosmetics for yourself!
I am a member of the Collective Bias™ Social Fabric® Community.  This shop has been compensated as part of a social shopper insights study for Collective Bias™ and e.l.f. #CBias #SocialFabric