Disclosure: This post about Tips for Grocery Shopping with Kids contains affiliate links.
Though it can be challenging to go grocery shopping with your kids, it is sometimes an unavoidable fact of life. You and your family have to eat, so at times, you just have to pack up the little ones and head on out to get some shopping done. There are a few ways to make sure that you are prepared to shop, that can also help to minimize the stress of taking your kids along. In fact, sometimes, if done right, it can be a fun and rewarding experience for both you and your little ones.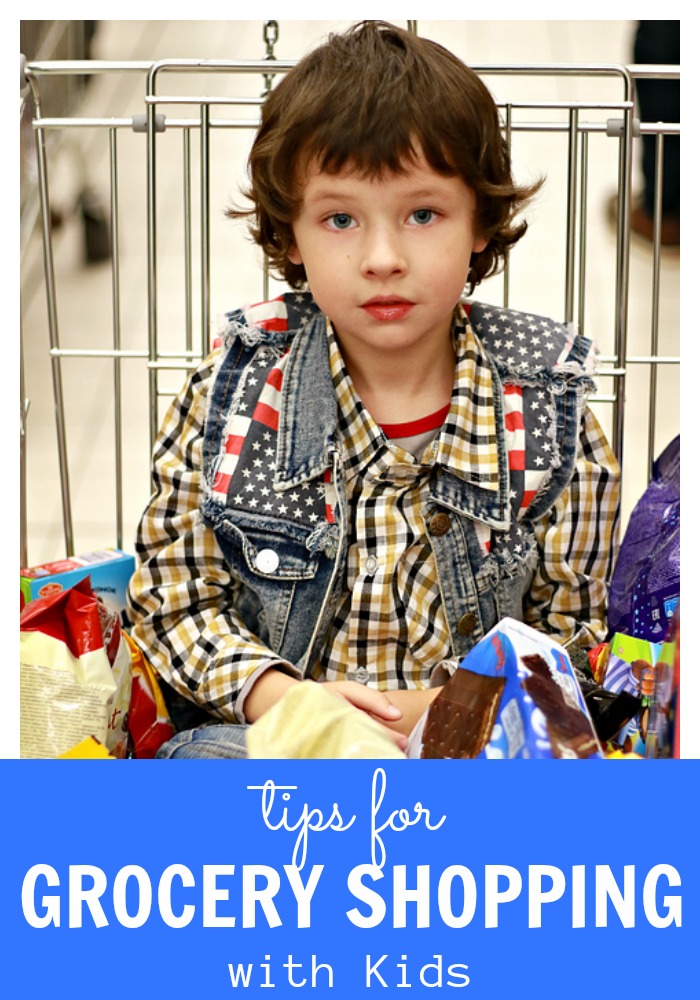 Here are my tips for grocery shopping with kids.
Don't.
That's right, my first tip is just not to do it if you can possibly avoid it (if it's going to be a stress-inducing experience!). I realize that's not very practical all the time but if your kids are having a rough day (or week), taking them out to the grocery store may only be setting yourself up for disaster. And no one wants a grocery store meltdown. Think of alternatives. Could someone else go for you? Do you have a grocery pickup service in your area so that the most you have to do is to load the kids in the car and drive them to the store, but you don't have to get out? Or even better, do you have a grocery delivery service? Instacart just opened up here in London, Ontario and will deliver grocery orders from Loblaws and Real Canadian Superstore.
Have a Plan
Okay, so the kids are in good spirits and the stars are aligned, so you're heading out to the grocery store. Before you even leave the house, it is a good idea to have an action plan prepared. Write out a meal plan, make a grocery list and organize by aisle. This will ensure that you can get into the store, get what you need, and get out, quickly and efficiently. Shopping with small children is not the time to browse your way through the store. Having a plan also means setting expectations for your children. No, we're not eating at Starbucks today (our store just opened one inside of it!) but you can choose a piece of fruit. Yes you may have one ride on the horsie. (No, we no longer have those at our grocery stores but there is one at the farmer's market).
Be Prepared.
Think ahead about possible situations that could occur while shopping. Along with the snacks, think about things like a change of clothing, diapers, a favourite toy or two, and maybe a couple of books to look at. Despite trying to get the kids involved in the shopping experience, sometimes they just aren't feeling it. So, provide them with an alternative. You also want to have a plan for potential meltdowns. What will you do if your child throws him/herself down on the floor in full tantrum mode? Believe me, I have abandoned my cart and carried my child out of the store kicking and screaming before. But prior to that, I tried redirection. "We still need eggs so I can make your breakfast tomorrow. Can you help me find them? I'm having trouble seeing them."
Infantino Play and Away Cart Cover and Play Mat
Lamaze Freddie The Firefly
Lamaze Mortimer The Moose
Baby Einstein Activity Arms Toy, Octopus
Purell Advanced Hand Sanitizer Refreshing Gel, 1 Fl Oz (3-Pack)
Babyganics Alcohol-Free Hand Sanitizing Wipes, Mandarin, On-The-Go, 20 count reseal pack (Pack of 4), Packaging May Vary
Pro Tip: Take along a cover for the shopping cart, some hand sanitizer, and some wipes. Grocery stores are hotbeds of germs!
Timing is Everything
If you can choose what time of day you go grocery shopping, go as early as possible in the morning. Not only is it easier to find a parking spot, but the store is virtually empty, and your children will be in a generally better mood as nap time or snack time isn't approaching. I highly recommend not attempting to grocery shop with children on a weekend!
Eat Before You Shop
It is a bad idea, even without kids, to go grocery shopping with an empty stomach. Shopping while you are hungry is not a good idea for adults, and the same goes for your little ones. Make sure that you deal with hunger before you leave for your shopping trip and bring snacks along for the kids. My local store has a display of fruit specifically for kids to snack on while they shop. If you want to let them have a sweet treat, you can also ask for a cookie for your child at the bakery. (Just know that once they realize the bakery does this, they will expect a cookie every time!). Anticipating the treat of a special piece of fruit (and/or a cookie) just for them can be helpful motivation for kids' on a shopping trip.
Encourage Them to Help
There are many ways that kids of different ages can help with grocery shopping. Some stores even have pint-sized grocery carts. I found these to be a double-edged sword. At some ages, it meant me having to chase my daughter around as she crashed into displays and filled her cart with all kinds of things I didn't want to buy. At others, with expectations outlined, they provided some lovely entertainment. Know your kids and choose your stores wisely. If they have those mini carts, your kids are going to want to use them and that could just be your first grocery store battle before you even begin shopping!
Have the older kids check things off the list, and younger kids can help to push the cart or look through the flyer. I used to cut out pictures of some familiar foods from grocery flyers and paste them on index cards. Then, I'd choose a few of the cards to hand to my young, not yet reading, daughter as her grocery list. She was very proud that she could help pick out items. Write the name of the food on the cards and you'll get a head start with helping your kids learn to read too!
Even without a list, kids can also help to grab things and put them in bags or reach the low items on a shelf. Encouraging your kids to help, will make them feel as though they have a job to do. Providing them with responsibility is also a great way to keep their minds occupied.
As kids get older, there are all kinds of learning opportunities at the store. Teach them how to shop for the best produce. Talk about why you're choosing lots of fruits and veggies instead of filling the cart with candy. Show your kids how to read the labels. Teach them to find the best bargains. One day, you might even do what my parents did. They let me (with supervision at first) plan the weekly menu, put together the grocery list, and take the lead in the shopping.
Play Games
Everything is more fun when you turn it into a game. Make grocery shopping into a sorting game, play I spy, or even Simon says. This is where those index cards can come in handy again too! Turn grocery shopping into a scavenger hunt of sorts, looking for certain numbers, colours, or shapes. My rule for the scavenger hunt was always find it with your eyes not your hands. Making your shopping outing fun, is a good way to distract your children from poor choices and negative behaviours. Who knows? You might even have fun.
Grocery shopping with your children is just a fact of life, it doesn't have to be dreadful. In fact, grocery shopping can be something that you end up looking forward to, as long as you make it a positive experience.
More grocery shopping tips:
10 Tips for Saving Money on Groceries