All aboard! Thomas the Tank Engine is rolling back into St. Thomas, Ontario once again this summer. If your kids love Thomas and friends, there is nothing more exciting than getting to actually ride on the Thomas train! Even as an adult, I have to say it's really fun. You just can't help but smile when you see all the kids' beaming faces, their eyes lighting up as Thomas rolls into view. That's why I'm so excited to be teaming up with Sarah Gumina PR once again. They are sponsoring my family's visit with Thomas AND providing a family pack of 4 tickets for me to give away to one of you lucky readers!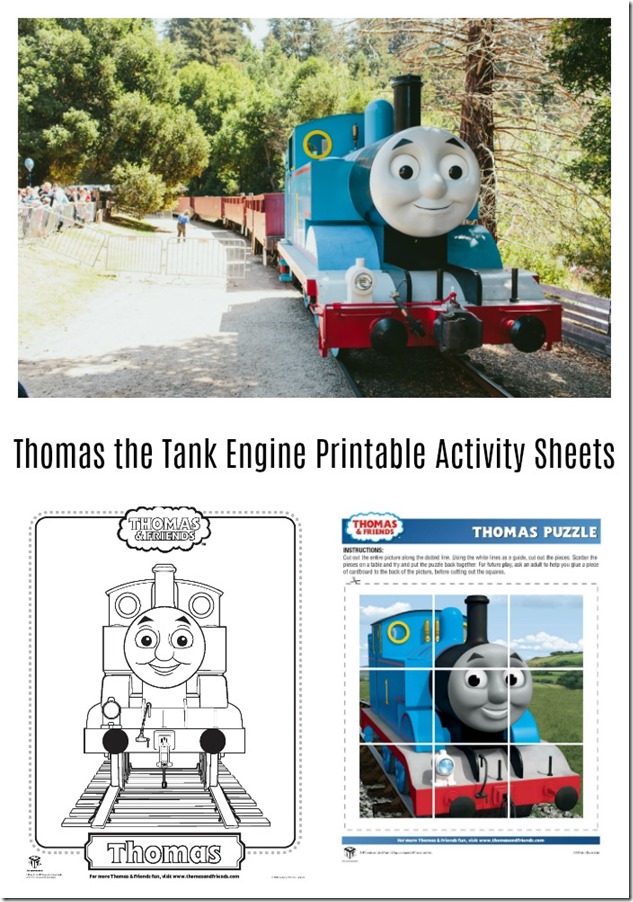 Thomas The Tank Engine invites little engineers to join him for a day of friendship and family fun at the Day Out with Thomas: The Friendship Tour 2017. This annual event returns to Elgin County Railway Museum on July 15 and 16 and again July 21 through the 23rd.
Day Out with Thomas is a fun-filled event that provides children of all ages the opportunity to climb aboard and take a ride with Thomas as well as participate in Thomas & Friends ™ themed activities. The tour, now in its 22nd year, will make 42 stops across the U.S. and Canada, and is expected to welcome nearly one million passengers in 2017. For two back-to-back weekends, little engineers and their families are invited to take a 25- minute ride led by their favorite engine, meet Sir Topham Hatt, Controller of the Railway and enjoy a day of Thomas & Friends fun.
Day Out with Thomas: The Friendship Tour 2017 is presented by Mattel. Proceeds from the tour's St. Thomas stop, benefit the Elgin County Railway Museum. This will be the 12th consecutive year the non-profit organization has hosted the Day Out With Thomas event in the city. In celebration of this year's theme, Day Out With Thomas: The Friendship Tour 2017 will feature an array of friendship-inspired activities. Attendees will be able to participate in events that encourage and celebrate friendship including photo opportunities with an inflatable version of Thomas' friend Toby, crafts, and a fun activity that invites kids to collect passport stamps throughout the day to receive a trio of Day Out With Thomas friendship bracelets.
Thomas the Tank Engine rides depart every 45 minutes, rain or shine. Departure times begin at 9:30 am through 4:15 pm each day of the event. Tickets for Day Out with Thomas are $25 plus tax for ages two and up, and include one 25-minute train ride at the departure time purchased, and all on-site activities throughout the day. Gates are open 8am to 6pm Saturdays during the event, and 8:30am – 5:30pm Friday and Sundays.
Tickets are on sale now, and can be purchased by calling toll-free 1.866.222.6608 or by visiting www.ticketweb.ca/dowt For more information and directions, contact the Elgin County Railway Museum 519-637-2333 or visit www.ecrm5700.org
For general information about the tour or to find a Day Out with Thomas: The Friendship Tour 2017 event near you, visit www.dayoutwiththomas.com.
FREE THOMAS THE TANK ENGINE PRINTABLES FOR THE KIDS:
ClrSheet_Percy
ClrSheet_Thomas
ColorSheet_Belle
Puzzle_SirTophamHat_US
Puzzle_Thomas

ENTER BELOW FOR YOUR CHANCE TO WIN 4 TICKETS FOR THE SUNDAY, JULY 23, 2017 THOMAS THE TANK ENGINE TRAIN RIDE AT 4:15 PM. Tickets can only be used for this date and time and are not transferable.
How early should I arrive?
It is advised to arrive an hour ahead of departure time to park, pick up tickets and board Thomas The Tank Engine. Of course, feel to arrive earlier and stay later to enjoy all the Day out with Thomas activities.
Where is the train ride located?
The train departs from the St. Thomas-Elgin Memorial Centre at 80 Wilson Ave. St. Thomas, ON