If you're heading off to a summer festival, you want to be prepared. This summer festival packing list will help ensure that you don't forget anything.
Obviously, if it's a multi-day festival (where you're camping or staying over at a hotel), you'll need to bring even more, but this list is perfect for a day trip to a fun summer festival.
If you're in the London, Ontario area, be sure to check out our list of local festivals to attend: Summer Festivals in London Ontario.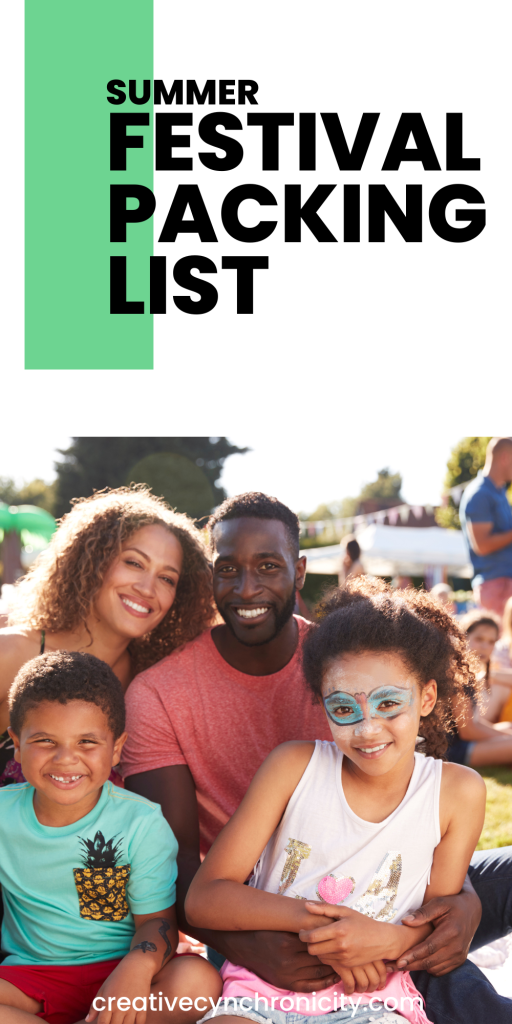 Summer Festival Packing List
Disclosure: Some of the links in the post below are affiliate links provided for your convenience. This means that if you purchase something through one of these links, I get a small commission at no added cost to you.
What to bring to a festival:
Tickets –
if needed. Most of the festivals in my area are free, but some do have special events attached to them requiring tickets.
Wallet –
Including cash, debit card, credit cards as needed. Even at free festivals, there are food vendors and often crafts or souvenir vendors as well. You might also need your driver's license or other ID to prove your age if you plan on entering the beer tent or buying alcohol.
I recommend an RFID blocking wallet or card case to help protect your cards from being cloned. It's no fun to come home from a great day out to find out that your bank accounts/credit cards are locked due to suspicious activity. The neck wallet style is really handy and you can keep it hidden under your clothing.
Sunscreen –
I recommend a few different kinds. A solid stick or spray sunscreen makes reapplication so quick and easy, but I find I miss a few spots that way. I like to bring a cream or lotion sunscreen as well for a full application and then use one of the other kinds for a quick "top up".
The Neutrogena sunscreen is one of my personal favorites. It's so light and sheer and yet protects my fair, sensitive skin really well.
Water bottle –
Many festivals have water refilling stations. These are generally free or at the very least, much cheaper and better for the environment than buying bottled water at the festival.
I prefer water bottles with filters in them. This helps remove impurities in the water and I find it makes it taste better too. The collapsible water bottles are really handy for taking up less space in your bag too.
The water bottle in the middle is the one I own. It's easy to assemble and clean. The filters last for about two months and the bottle is really comfortable to drink from. I find that some have their own "taste" (from the plastic or metal) that I don't care for. Others have straws or spouts that feel odd in my mouth. In addition, there's a quick little button press to open up the spout, making it really easy to use (even one-handed).
Flavor enhancer for water –
If you're like me, water starts to get boring. I'll throw in some cucumber, watermelon, berries, or apple slices to enhance it. Or I'll carry some water flavor-enhancing drops with me so I can perk up plain water on the go.
Phone –
Perfect for staying in touch with other attendees, calling an Uber for your ride home, or taking selfies and other photos of the day. Be sure it's protected in a good phone case. Personally, I also like to place it in a waterproof phone pouch in case of rain or shenanigans.
You could, of course, take a DSLR camera with you if you want, but I prefer not to lug it around at events like this and my iPhone takes really good photos!
Medications –
If there are any medications you may need to take throughout the day, be sure to pack those. I carry my Epipen and asthma inhaler in an insulated bag in case I need them. I also make sure to bring along some Tylenol – I don't want a sudden headache to get in the way of the festival fun!
This is the insulated bag I use. It can hold two Epipens and two asthma inhalers. It's nice and compact with a strap and carabiner that you can use to attach it to another bag, your belt loop, or for easier carrying.
Backpack or cross-body bag –
There are plenty of different kinds of tote bags you could take along to a summer festival. First, it's important to check the rules because some festivals have rules against bringing in large bags (purses only). Most of the ones I attend are free admission and have no such rules, but you want to be sure ahead of time.
I also like to consider how much I want to lug around throughout the day. I prefer something that is hands-free like a backpack or a cross-body bag. Think security. I wear my crossbody bag on the front of my body to keep it more secure from thieves.
This is the one I use. It's comfortable and compact but still has enough room for the things I need to put in it (like my sunscreen, insulated bag for my meds, phone, even a small umbrella, and more). It has a USB charging port and headphone hole.
Blanket and/or folding chair –
Some of our festivals don't allow chairs to be brought in. Even if they do, I always pack a blanket to put on the ground along with it. It's always nice to have a little extra space for sitting if needed. Take a blanket that is waterproof on one side or bring along a plastic tablecloth or something similar to place underneath it.
Sun hat and beach umbrella –
Again, some of our festivals don't allow beach umbrellas but it sure is nice to have some shade if possible. At the very least, bring a sun hat to wear and give yourself more protection from sunstroke.
When it comes to hats, I prefer the kind that can be folded or rolled up and shoved down in my bag as opposed to a straw hat. I also like to carry one of the small, folding umbrellas to use in case of rain.
Hair ties –
If you have long hair like me, having a few hair ties, barrettes, or other small hair accessories along can help you tame your hair even if it gets frizzy or wet.
Face mist –
A face mist can be so refreshing and help keep your skin hydrated when outside all day on a hot summer day! You can also take along one of those face mister bottles and fill it with water.
A cooling towel is another great option. Get it wet and it will stay cool for up to 3 hours. After being out in the heat for a few hours, you might not feel as fresh. Antiperspirant wipes take up very little space, but can help you feel clean and refreshed.
Wet bags –
Wet bags are a more eco-friendly option than plastic zipper food storage bags and give you a place to stash items that have gotten wet (after a rain storm, for example) without getting everything else wet.
You might want to take along a few sandwich bags as well. We find these come in handy for leftovers if the kids don't finish eating their meals all at once.
Portable charger –
My phone has a really long battery life to it and I've ever needed a portable charger at a festival with it, but previous phones I've owned haven't lasted quite so long. If you are concerned that your battery won't last the day, a portable charger is a great option.
Sunglasses –
Be sure to take a pair of sunglasses. Even if the sky is overcast now, the sun might come out later. I know there are times in the past when I thought, 'oh the sun isn't bothering me', but then after a full day out, I found that once I got home my eyes were dry and tired.
Prevent any issues by being proactive and wearing your sunglasses!
Lip balm
Tissues
Hand sanitizer
Even when not in a pandemic, I like to have hand sanitizer with me. You can't always find a place to wash your hands before eating at the festival, so this will come in really handy.
Sanitizing wipes are a great way to wipe down any surfaces as well. This isn't just a matter of Covid – there are many other germs that you could be exposed to. Safe not sorry!
Face masks
You may not need these. Festivals are outside and you can generally distance quite well so they may be unnecessary. However, I find that I want to use them in the bathrooms (loads of germs in there) and at times, if concession or other booths are crowded.
In addition, I am simply in the habit of carrying them wherever I go. Then, if a place is unexpectedly more crowded or a venue has recently changed its rules and reinstated masking, I'm all set.
I also have found masks to be really helpful in protecting me from pollen. So, if the pollen starts flying at an outdoor festival, I can simply pop on a mask.
Bringing the kids to the festival?
Don't forget to bring:
Snacks –
There may not be appropriate food available (as in, food your child likes) so be sure to bring some snacks that you know they like with you. You don't want a cranky hungry kid on your hands.
My daughter was hypoglycemic so I always made sure I had some protein and carbs (like cheese and crackers with fruit) with me just in case we needed it.
Water bottles for the kids-
Contigo brand is our favorite. They're leak-resistant (my grandson carries two of them in his backpack every day to school), easy to clean, and easy for the kids to use.
Spare clothing
Diapers, diaper wipes, and a change pad if needed
A comfort toy –
A small comfort toy is always a good idea. Kids can get overtired and overwhelmed and this can be a great way to help them calm down. Don't bring anything too precious (or have a spare) in case it gets lost at the festival.
My daughter had a few comfort toys that were small enough that we could attach them to her stroller to help keep them safe.
Boredom busters –
A festival shouldn't be boring. I always have tried hard to teach my daughter and now my grandkids that there's no reason to be "bored". The world is a beautiful and fascinating place and if you pay attention to your surroundings, there is just so much to see! We will point out sights to each other, make up stories about them, and just generally have fun being in the moment.
However, everyone has their moments. So, be prepared ahead of time, even just with some ideas of games you could play while waiting for food (the lines can be long) and so on. I Spy requires no special equipment and in a place like a summer festival, you can find so much to "spy" around you.
You could also play "When I went to the festival, I took ___________". You go through the letters of the alphabet in order. The first person says something like "When I went to the festival, I took apples." Second person has to repeat what the first person said and add to it. For example, "When I went to the festival, I took bananas, When Mom went to the festival, she took apples."
A small notepad and pencil allow you to play things like Pig in a Pen, a Hangman alternative (Hangman can be a problematic game in its original form), or Tic-Tac-Toe too.