Disclosure: I've always been very passionate about saving our planet and the creatures that live on it. This blog post on Planting a Bee Friendly Garden is sponsored by Honey Nut Cheerios and the Bring Back the Bees Campaign. I have received compensation in exchange for it but as always, will give you my honest ideas and opinions.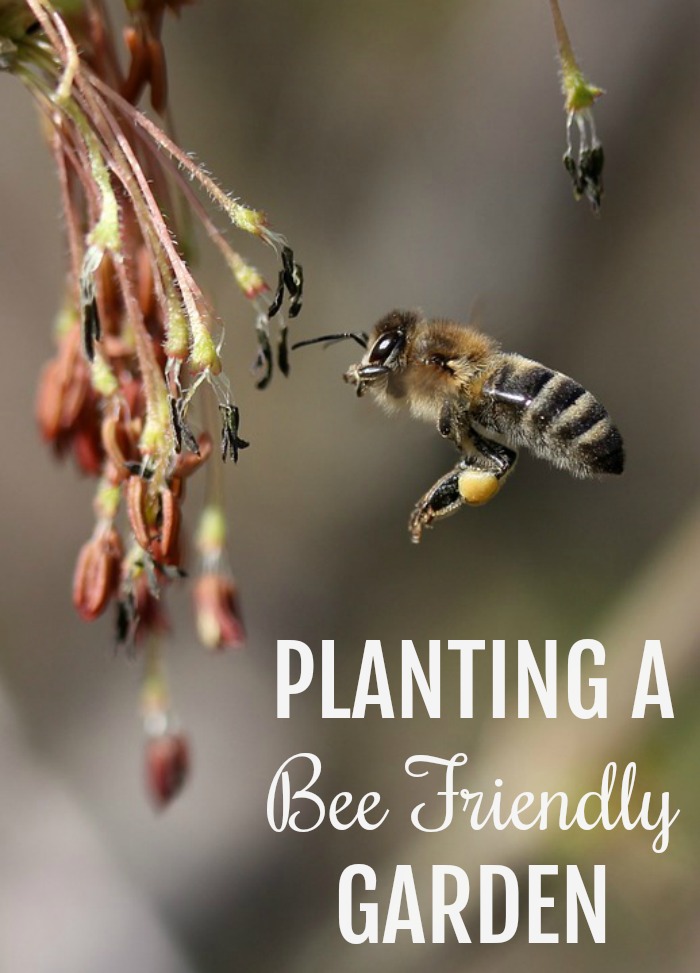 For a long time when I was a child, I thought I might want to be a naturalist. Or forest ranger. Or maybe an ecologist or zoologist or marine biologist. Whatever it was I ended up doing with my life, I knew I wanted to do something to help save the world and save all those creatures who were in danger of extinction. If you're like me though, sometimes you think, okay I want to help but what can I do? I'm just one person.
Well, here's the thing when it comes to bringing back the bees. It's really really easy to help! And you can start right in your own backyard by planting a bee friendly garden:
Hundreds of different bee species call Canada home.
I was so surprised to learn that the smallest is the size of a pin head! We have bees that live above ground and some that live below ground. All species of bees are vital to our ecosystem. Out of all the pollinators we have, the bees are the most important ones. They pollinate about 1/3 of the food we eat! And guess what? They actually love backyards in urban settings. For them, it often means a shorter flight path and much more variety when it comes to the flowers and plants they love. So, they actually are more likely to thrive in your backyard and other similar settings than anywhere else. YOU are crucial component in bringing back the bees!
Bees are attracted to colour.
They especially like blue, purple, violet, white and yellow. Consider this when choosing the plants you're adding to your garden.
It's best to plant flowers in clumps of single species.
By creating large clumps of plants, instead of interspersing little patches of different plants throughout your garden, you can make it easier for the bees to find the plants.
Bees can have different preferences in the colours and types of plants they like.
They also have different sizes of tongues so it's really important to include a variety of colours, types, and shapes of flowers. In this way, you can benefit the most bees possible!
Try to stagger the flowering times of your plants.
In this way, the bees will always have food available to them!
Some breeds of flowers are sterile.
Did you know that? (I didn't!) This makes them useless to the bees. Typically, native or heirloom plants are the best for the bees. Also, it's good to note that as a general rule, native plants attract native bees and exotic plants attract honeybees.
You probably have the materials needed already on hand. Keep the water level low and you won't have to worry about encouraging mosquito larvae.
This is a great project to make with your kids!
Inspire your kids to get involved too.
For the third year of its tremendously successful Bring Back The Bees campaign, Honey Nut Cheerios has partnered with the Canadian author of the beloved "Franklin" children's books, Paulette Bourgeois, along with Kids Can Press to create an engaging new children's book to encourage Canadian kids to do their part to help bring back the bees. The book will be distributed by Indigo, Chapters and Coles stores. The free books are available in English and French through Indigo, Chapters and Coles stores as well as online – go to www.bringbackthebees.ca to find your nearest location and online ordering details for the books.*
Get started with some free wildflower seeds.
Over the first two years of the Bring Back the Bees initiative, Canadians planted 600 million wildflower seeds across the country to help preserve and grow the natural habitat bees need for survival. This year, Honey Nut Cheerios is hoping to see another 300 million planted in 2018, because despite the great progress made so far, the bees still need our help. Go to www.bringbackthebees.ca to order your free wildflower seeds.*
*While supplies last.
And in conjunction with Honey Nut Cheerios and the Bring Back the Bees Campaign, I'm giving you an opportunity to win a Bring Back the Bees starter kit! You'll get everything pictured above – Bella and Jack Bring Back the Bees book, 2 boxes of Honey Nut Cheerios, and some packets of wildflower seeds.
For more great gardening and backyard tips:
How to Prepare Your Backyard for Summer