Welcome to Creative Cynchronicity!  Have you been taking part in the Pinterest Scavenger Hunt?  No? Well what are you waiting for?  There are great prizes to be won! You still have nearly 2 weeks to go so get started now!  Here are the basic instructions on how to take part.  If you are already a part of this fun scavenger hunt, keep reading for your next clue.
Since you might be new here, I'd like to take just a minute of your time to introduce myself.  My name is Cyn (short for Cyndi or Cynthia) and I'm the single mom of Samantha, who is in university studying Music and English.  I'm an American living in London, Ontario, Canada with our German Shepherd and two cats.  Before I became a fulltime blogger, I was a classroom teacher working with kids from Junior Kindergarten to Grade 9.  Now I share my love of finding creativity and joy in everyday life here on my blog through crafting, cooking, family fun, parenting, travel, product reviews, and more.  I'd love it if you came back to visit again.  You can also connect with me on Facebook, Twitter, Google+, and Pinterest.
Today's clue is: Which apple is witch?  (You can find the answer to this somewhere on my blog.  Hint:  the post you want is from 2010 but it's one of my most popular and a personal favourite of mine.)
This week's sponsors are:

Prize: Ad Space, value $26 (http://cherishedbliss.com/advertise): One month advertisement on Cherished Bliss. You will receive an intro post, option for a giveaway, and shout outs on social media sites!
About the sponsor: Cherished Bliss is a blog where I share what I'm working on. I'm a busy mama of 2 and a wife to an amazing man! Everything I do is inspired by my family from furniture, decor, crafting, sewing, and more! I try to do a little of everything ; ) Stop by to see where in my adventure I am… and I'll probably be drinking coffee!
Simply Klassic Design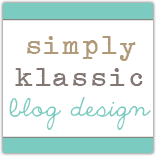 Prize: Blog header redesign, value $30
About the sponsor: Whether you are interested in a custom blog design for your family or for your small business, I will work with you to create an affordable and stylish blog design that will set you apart from other blogs. Simply Klassic offers competitive pricing. Services are offered in three packages or A La Carte, so we can build a custom blog design to fit your needs and budget. Etsy and Print Design services are also available. For a customized blog, tailored to your unique personality and taste, you may want to look into Simply Klassic Design