I have a vision in my head of my dad, every weekend,  wearing his Dallas Cowboys jersey and settling down in his favourite chair to watch Sunday afternoon football, glass of sweet tea beside him.  I also remember very clearly when I was little – this was before the jersey – asking him which team "we were" rooting for.  He said, "Well which team do you want to win?".  I looked at them both and said, "That one," pointing at the Pittsburgh Steelers.   He sighed….several times.  It wasn't long before I figured out that we were a Dallas Cowboys family and I embraced my role happily.  Now that our family has grown, we have welcomed in some new members with their own favourite teams (Graham, we won't hold it against you that you like the Saints), but for the most part, we have carried on my dad's legacy of loving those Cowboys!  So, it was in my dad's honour that I decided to hold this party!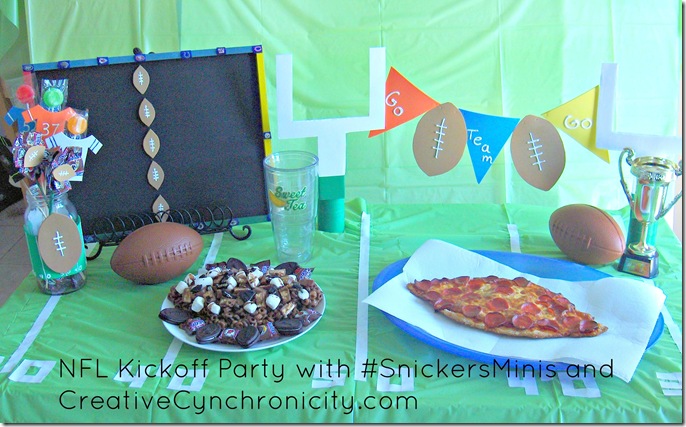 First, I headed off to Walmart to shop for everything I'd need to throw a great football themed party. Pizza is our typical family get-together food because it's loved by adults and kids alike.  To ramp things up a bit, I decided to make some pizza at home.  I knew it would be economical when feeding a crowd and I wanted to try making the pizzas football shaped.  My favourite kind of pizza is mostly veggies and roasted garlic, maybe with some leftover chicken thrown in there, but with kids around, pepperoni is usually our best bet.
Don't you love these NFL themed #SnickersMinis?  They're just the right size for a sweet little treat and it's so much fun to have those NFL logos right there on the package.  Adds an extra element to the friendly family rivalry as we settle in to cheer on our favourite teams (Go Cowboys!)!  I had some ideas for incorporating those logos into the decorating too – more about this later!
I found a few other football themed items (both NCAA and NFL) throughout the store (check out these fun football shaped cookies) and finally, arrived at the aisle with the pizza kits.  After checking them out thoroughly and mulling it over, I decided to try the pizza crust mix – all you need to add is water!  It sounded simple and fast enough that I wouldn't miss out on too much of the football and festivities by being stuck in the kitchen!
Now for the decorations!  I found an inexpensive chalkboard and spruced it up a bit by cutting out the NFL logos from the package of Snickers Minis and the candy wrappers inside.  I added these around the edges of the chalkboard and then using craft foam and puffy paint, I divided the chalkboard into two sections with a line of footballs.  This chalkboard can help us keep track of the NFL game scores, we can put up our own guesses as to which team will win, or we can use it for playing a few rounds of football trivia.  There are some great questions to use for it here.  For the bouquet, I used craft foam and puff paint again to make a football field and football wrapper for a jar.  Then using skewers as the stems, I made "flowers" out of the Snickers Minis wrappers with craft foam football centers as well as football jerseys with lollipop heads.  On some of the jerseys I used puffy paint to add numbers and for the others, I once again used the logos from the candy to add logos to the jerseys. (There's also a sweet tea glass there in honour of my dad!)
The goal posts were made of foam core that I cut out with a craft knife.  I wrapped cans in green duct tape and then used the same tape to attach the goal posts to the cans.  With more craft foam and puffy paint, I created the Go Team Go bunting – I left it generic but you could certainly personalize it to your favourite team!  I punched a few holes in the tops of the flags and footballs and ran fishing line through.  I made them big enough to accommodate the foam footballs you can see lying on the table.  Later on, when finished with this as a table decoration, the kids were able to take the goal posts and the footballs into the backyard for their own game of touch!
It was lots of fun to create football shaped pizzas as our main dish.  If your kids are old enough, you could get them involved in shaping the dough for you.  The Betty Crocker mix I used was really easy to form!!  Maybe someone more talented than I am could make a football helmet shaped pizza?
In keeping with the football shape and pizza theme, I made a delicious Snickers Minis candy pizza shaped like a football!  It was quick and easy to make and there are many ways you can change it up and vary the tastes according to family preferences.  Some M & Ms on this would have been a fun, colourful, and tasty addition!  Here's the recipe:
Cyn's Super Duper Snickers Minis Candy Pizza
Ingredients:
3 cups of cereal – I used chocolate Cheerios this time but Rice Krispies is another good choice.  Or try a mix of your kids' favourites!
1/3 cup peanut butter (the peanutty taste goes beautifully with the peanuts in the Snickers Minis) – I used honey peanut butter but any will work
1 1/2 cups marshmallows
1 T. butter or margarine
About 10 Snickers Minis bars
About 12 mini marshmallows (or do as I did and cut up large ones)
About 1/3 cup chocolate chips
(If your family likes coconut, about 1/3 cup is lovely on here too but we have a number who strongly dislike it, so I left it off)
You can add other candies that you like, peanuts or other nuts, – the possibilities are endless!  You can also change up the crust – make a crust with crushed cookie crumbs or cereal or graham crackers. How about a puff pastry crust? What would YOU add to my candy pizza?
Instructions:  Melt the peanut butter, 1 1/2 cups marshmallows, and butter/margarine over low heat or in the microwave.  Meanwhile, cut up the Snickers Minis bars into 3-4 pieces each.  Once the peanut butter mixture is melted, pour it over the cereal and coat thoroughly.  At this point, I dumped it out onto a plate so I could shape it into a football.  You could press it into a nonstick or greased 9 by 13 pan instead if you prefer.  While still warm, top your "pizza crust" with the cut up Snickers Minis bars, marshmallows, and any other toppings you'd like to use.  Melt the 1/3 cup of chocolate chips and drizzle over top of the pizza.  Delicious!
What a fun way to celebrate the start of a new NFL football season!
Please connect with Snickers online in the following places:
I am a member of the Collective Bias™ Social Fabric® Community.  This shop has been compensated as part of a social shopper insights study for Collective Bias™ and SNICKERS® Brand #CBias #Social Fabric.  All ideas and opinions are my own.