Meditation is HARD for me. (Guided meditation is even worse though. "Okay picture yourself in a forest filled with tall trees.". Nope. I'm in my living room.) My mind just goes into overdrive thinking about everything and anything.
When we went to a prenatal meditation session – open to the whole family – my daughter and mother seemed to just sink into relaxation with ease. My son-in-law was so relaxed that he fell asleep sitting up.
Me? I laid there jiggling various parts of my body, anxious to know when this was going to be over, so I could get up. To be fair. being in chronic pain does make it more difficult.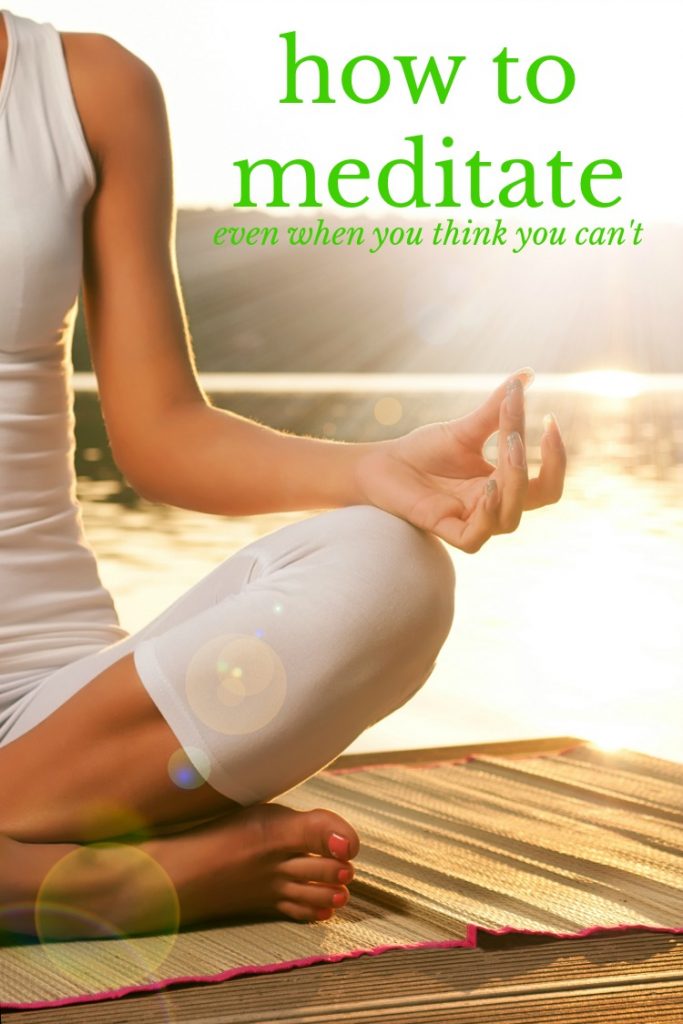 HOW TO MEDITATE
Quieting my mind generally then makes it harder to ignore the pain. Honestly, I gave up for a while. But now, I've been dedicating more time to learn how to meditate and it is improving.
Why meditate? There are several proven benefits. The first, and probably most obvious, is relaxation. It truly can be a way to calm your body and mind and release some of the stress of the day.
Meditation can help you refocus your day.
It can also be a great way to focus and re-energize your thinking. You know those times when you're being torn in 20 different directions and feel like you're never going to make it through your massive To Do list?
Meditation can help you quash those negative thoughts, prioritize, and focus on what's most important. Finally, for me, it is another form of prayer.
When I can quiet my own mind, I am more likely to hear God speaking to me. (If you're not spiritual, it doesn't have to be this for you. It could just be a better way to get in touch with yourself). 
So from this "so not a meditation expert" to you, here's what is working for me:
The very first thing that stalled me in this process was feeling that there was a right and wrong way to do it. Yes, some people will tell you that there are rules for it.
And maybe if you're really serious about meditation, it's important to embrace those rules. Eventually.
But I don't believe in letting rules be a barrier to you actually being able to just do it. Try it one way. Maybe try it that way a few times. Not working for you? Try a different way.
Before you even attempt to meditate, start by getting organized.
Turn off your phone and all device notifications. (Okay, if you have to still be available for urgent calls from a select few, then use the Do Not Disturb function.)
Put on comfortable clothing so you're not thinking about the belt that's digging into your stomach instead of meditating.
It's best to be free of alcohol and caffeine before meditating (at least 4-6 hours in between).
Especially as a beginner, it's best to practice in a quiet (silent or some people like some quiet, gentle instrumental music) environment.
Try these tips a few times. If they don't work, switch it up.
If it's possible you are going to be interrupted, perhaps let your family know ahead of time that you will be busy for a while. You could even put a sign on your door to remind them!
Set an alarm to let you know when your designated time is up. Make it a gentle alarm – you don't want to be jarred out of your quiet meditative space!
This also allows you to keep all clocks and watches hidden away while meditating. It's all too easy to keep checking the time when you're having a hard time getting into it. 
Get your supplies ready.
No, you don't need a ton of supplies in order to meditate. But a few things can make it easier.
A mat (like a yoga mat – or something more padded than that if you have pain issues like me).
A pillow for your head and one for your knees (I like to put one under my knees when I'm lying on my back. If it's too painful to lie on my back, I lie on my side and put one between my knees instead).
Have a water bottle nearby. Lying there thinking about how thirsty you are is not conducive to relaxation.
I also keep a shawl or throw at hand in case I get chilly.
It's okay to pause meditation to attend to your comfort. In fact, it's advisable.
Oh wait. Did you think that you can't stop in the middle of meditating to attend to your needs if you get thirsty or cold? Me too. Sure, 20 uninterrupted minutes might be best but 20 minutes of not accomplishing anything because you're focused on your discomfort is not.
Light some battery operated candles (the kind that flicker a bit seem the most realistic to me). I don't use real candles because of safety issues.
You can also burn some incense or use an essential oil diffuser if that is soothing for you. My favourite during meditation is the PastTense Blend from doTerra.
You might want to have a pen and notepad handy as well – sometimes things come to the surface of your mind during meditation that you want to jot down afterwards. 
How to practice meditation
Be sure to allow enough time to get really still and relaxed. Often my actual meditation time is only 10 minutes but I plan for 20 so that I have some extra to get myself settled.
Before I begin, I always invite God in first. If you are not religious, simply smiling can help to open you up to the experience and approach it as something pleasant.
Some people like to say a few words out loud – something like I open my heart and spirit up to the world or I am ready to receive.
Meditation is something that takes practice. Keep trying.
When that chatter (things like your grocery list, all the household chores that need to be done etc) starts up in your head, try to purposely relax and let it go.
OR maybe you don't push it away. Maybe these are actually deeper thoughts that should sit with you and that you should explore further!
Just breathe naturally. While deep breathing exercises can be helpful, for me, I find that they need to be done separately from meditation or they get in the way.
Smile or say thank you to God after you finish meditating. Again, some people like to say a few words aloud to acknowledge the experience. This can be a good time for an affirmation if those work well for you. 
More important tips for how to meditate
Start small. So many people decide to meditate and immediately jump into a one hour session. Start with 5 or 10 minutes.
Better to do that and do it well, than nothing at all. You can always build up from there once it becomes easier for you.
You don't have to close your eyes during meditation. Yes, for most people, it makes it easier to shut out the distractions.
But there are times when, for me, it simply becomes this battle of my eyes wanting to pop open and me fighting them. At those times, I stare at a candle flame. (You can pick something else instead – it's kind of like having a focal point when doing Lamaze breathing).
Instead of fighting the obstacles, look at them as learning experiences to help you improve your practice for the future.
Let your body rock or sway or move in other gentle ways if it wants to.  So far, some of my most successful meditation sessions have included gentle music and movement.
Try different body positions – sit on the floor, sit in a comfy chair, lie down. If things start interfering with your meditation, make note of what they are and try to deal with it next time.
When my back was hurting, I paid attention and made sure to try a pillow under my knees the next time.
When I had trouble with my eyes popping open, I tried using a sleep mask or tried meditating eyes open by focusing on a candle flame.
OTHER POSTS YOU MIGHT LIKE
100 Ways to Take Care of Yourself