Want a simple but delicious salad for a hot summer night? Try this variation on the traditional caprese salad, made with watermelon instead of tomatoes. The tangy and sweet balsamic drizzle is the special ingredient that really takes the taste over the top and will have you wanting more. You can make this salad in almost no time and it will add a refreshing dish to any summer meal.
Ingredients:
Watermelon cut into spears or slices
Fresh mozzarella sliced thinly (I really love the Bufalo Mozzarella)
Balsamic vinegar – about 1 cup
2 T. brown sugar
Fresh basil leaves
Instructions: This is so simple to put together but makes such a lovely dish for a summer dinner party and is so tasty and refreshing. Either lay pieces of the cheese on top of the watermelon or layer it (watermelon, cheese, watermelon, cheese). Wouldn't it be fun to put it all on a skewer like my Cobb Salad on a Stick.
To create the balsamic drizzle combine the vinegar and sugar in a small saucepan over medium heat. Once it starts bubbling turn the heat down slightly and continue to cook for another 10-12 minutes until it reduces and thickens. Drizzle this over the watermelon and cheese. Top with a basil leaf or two and serve!
Pin it for later—>>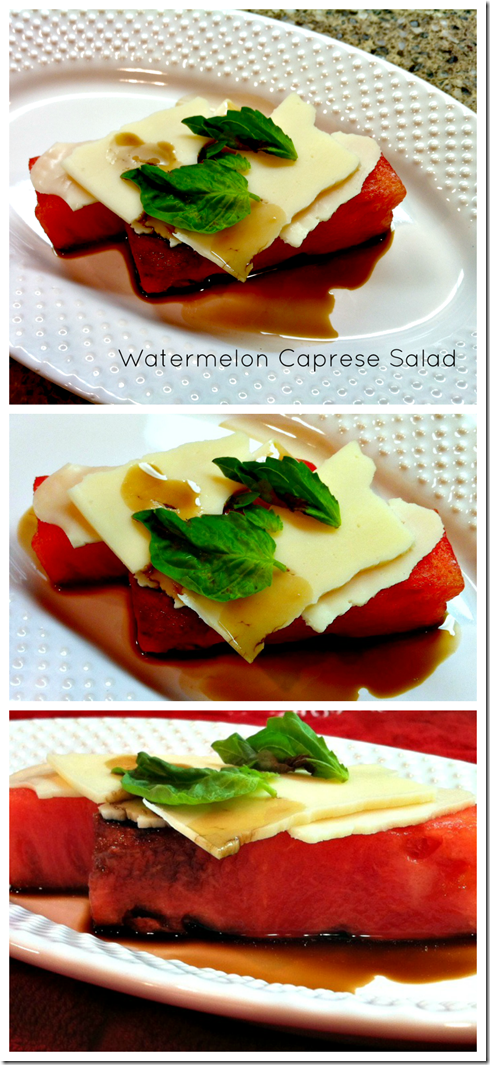 For more great summer recipes, check out the linky below: