Disclosure: Some of the links in the post below are affiliate links provided for your convenience. This means that if you purchase something through one of these links, I get a small commission at no added cost to you.
I just love these Mason Jar Snow Globes. They are absolutely adorable and make such a great gift!
What is it about mason jars that just add so much charm to pretty much any occasion? I use them as vases, make overnight oats and salads in them, serve beverages in them, and store things in them.
So, of course, when it comes to the holidays, I love to make use of mason (and other) jars then too! That's why I just love these Mason Jar Snow Globes so much.
These make fantastic gifts – perfect for a unique take on hostess gifts, neighbor and co-worker gifts, teacher gifts, and more. Fill them with whatever you'd like.
DIY Mason Jar Snow Globes Tutorial
These are quick, easy, and economical to make. Make them for everyone on your list.
---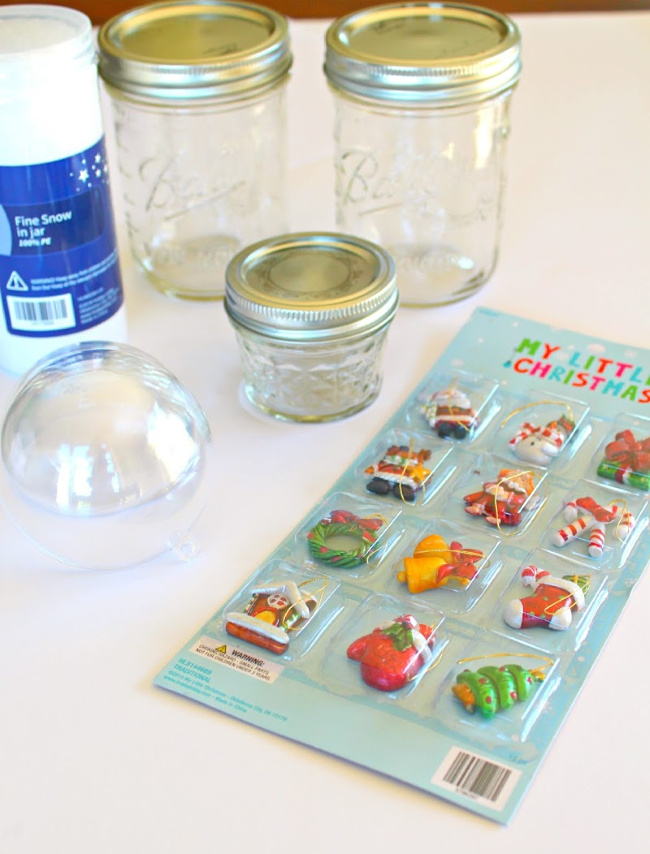 Items Needed:
Glue gun
White paper
Scissors
Instructions:
Cut the strings off the miniature ornaments.
Using the lid of the Mason jar trace the inner circle part on the white paper.
Cut the circle and hot glue it to the inner part of the lid.
Create a scene by hot gluing the ornaments onto the white piece of paper that is attached to the lid.
Open your clear plastic ornament so it's in two pieces. Attach one half of the ornament to the outer portion of the Mason jar lid.
Place your dome onto the jar. There is a small part of the ornament that is meant to have the string attached to it. Be sure that portion of the ornament is at the back of the jar.
Add whatever you would like inside the jar complete it. Might I suggest this delicious White Hot Cocoa mix?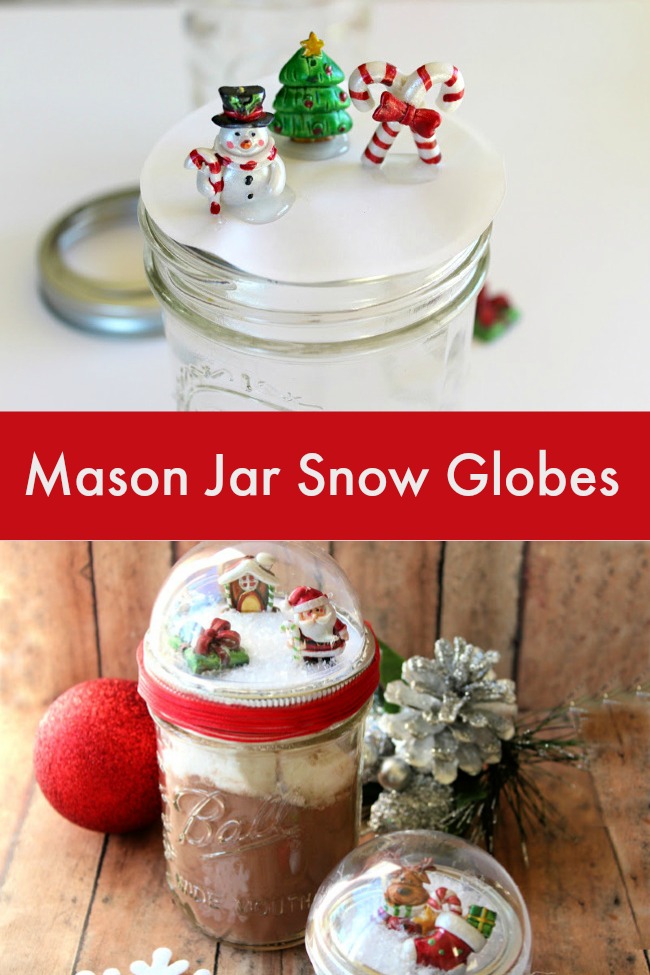 If you liked these Mason Jar Snow Globes, you've got to check out this Melted Snowman Hot Cocoa too!