Last night, my daughter and I had a fun outing at Disney on Ice. Now, if you know us, you might know that my daughter is 25. So here's a confession: often when we see Disney movies or other events coming to town, we try to "borrow" younger members of our extended family and take them with us just so we don't look crazy and out of place.  I mean, sometimes people give you odd looks when a couple of adults walk into a Disney movie or a Disney live event but come on…it's Disney! For me that's synonymous with great entertainment for all ages. So even though my daughter is an adult now, we still get as excited and giddy as children when we get the chance to attend a Disney event  Of course, we LOVE to share these events with our littlest loved ones but last night was a school night and they live an hour away, so it was just the two of us this time.  And we had a BLAST!
The fun started before we ever even entered the building – as we were walking up the sidewalk, we saw all the cute little girls in their Disney princess gowns and tiaras, the kids of ALL ages in their Mickey and Minnie ears, and one adorable little guy dressed up like Peter Pan. After grabbing the requisite bags of cotton candy, complete with our own sets of mouse ears, we were good to go. As we found our seats, we were thrilled to find out that we were seated near some of our friends and would get to enjoy the show with them too.
While waiting for the show to begin, we began to reminisce about our previous Disney experiences: the time we saw Beauty and the Beast on ice and how much fun it was to see Mrs. Potts and Chip skating around, when we saw the Little Mermaid on ice and wondering what special effects they would use this time to show Ursula as she grows and grows to monstrous proportions, and the time we saw them depict the story of Tangled and we got to Marvel at Rapunzel swinging through the air by her long, long hair!  We talked about other special Disney moments in our lives – Sunday nights when we'd have an early dinner so we could crowd around the TV set and watch The Wonderful World of Disney. We talked about the Mickey Mouse Club and began our own rendition of the "M-I-C-K-E-Y-M-O-U-S-E" song. We giggled and wondered and just revelled in the Disney magic.
The show begins with Mickey, Minnie, Donald, and Daisy getting ready to head off on a trip. When they talk about having entrusted Goofy with their luggage, my daughter and I turned to each other and said "Uh oh! Goofy's got the luggage. That could be a problem!" and sure enough he comes awkwardly skating in, dropping luggage everywhere in true Goofy fashion.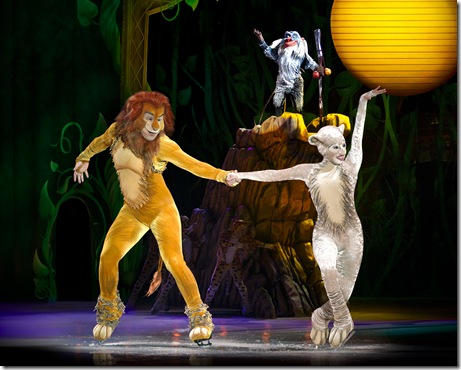 They head off first to Africa to visit Lion King's Simba, Nala, Timon, Pumbaa, and Rafiki and pretty soon we're bopping and singing along to "I Just Can't Wait to be King" – seriously, are there ANY catchier tunes than the ones in Lion King?
Click the link below to see a snippet of Timon and Pumbaa's segment:
Timon and Pumbaa #disneyonice2014 https://t.co/Zd6ee83knZ

— CynGagen (@CynGagen) January 31, 2014

Next up, off to the ocean to see Ariel and friends.  Little Mermaid has always been a family favourite and it made me smile to see my adult daughter's face light up, just as it did when she was a kid watching this segment. She turned to me at one point and said, "You know, if I had to marry a Disney prince, I'd pick Eric." and then wondered, "Oh this Ursula is even better than the one before!"
Another video snippet is below:
Little Mermaid #disneyonice2014 https://t.co/nPUXpZlKwJ
— CynGagen (@CynGagen) January 31, 2014
Moving on, we traveled with Mickey and friends to Hawaii to see Lilo and Stitch and then it was on to London (England) to see the Darling family before being whisked away to Neverland.
Second star to the right and straight on to morning #disneyonice2014 https://t.co/2VyRKzPLYi

— CynGagen (@CynGagen) January 31, 2014
Always a kid at heart myself, I remember saying to my daughter, "Oh please let them make Peter Pan actually fly" and I was not disappointed! It really felt like Disney magic watching Peter, Wendy, John, and Michael flying high above the ice!
It was a fantastic show, full of great skating and great entertainment.  Everyone around us was having a wonderful time, young and old. We joined together to sing along to familiar songs, to help fool Captain Hook with the crocodile's "tick tock" sound, and to clap Tinkerbell back to life. Disney magic makes us all one big family.  The best message of all? When Peter Pan reminds us all to hold onto a piece of our childhood wonder and magic forever.
You still have time to take your family to see this amazing show with more shows throughout this weekend in London, Ontario.  Click here to go to the Budweiser Gardens website and buy your tickets.  More great shows are coming to Bud Gardens too!  Click here to enter to win 4 free tickets to the Maple Leaf Monster Jam. AND watch for another post this weekend about the upcoming Disney Live show – hint, there might just be a chance for tickets there too!