We spent this afternoon at Disney Live: Mickey's Music Festival and as expected, we had a fantastic time! So, let me begin by saying a huge thank you to Feld Entertainment for providing us with the tickets so we could attend and review the show for you.
In true Disney fashion, they did an amazing job of making the show appealing to fans of all ages. There were, of course, some of our favourite Disney characters. I think J, age 7, loved the green army guys from Toy Story the most. The look on his face and the excitement in his voice when they came out on stage was pure joy. It was such fun to see! Then there was C, age 5. She barely made a peep the whole show. Her eyes were wide as saucers and she was completely absorbed in and enthralled with every single thing happening on stage. A couple times there were some bursts of giggles, and at one point, the little voice said excitedly, "It's Ariel!" But most of the time, she was quietly under the spell of Disney magic.
There was so much music – familiar Disney music as well as other familiar songs like Who Let the Dogs Out, Girls Just Want to Have Fun and Oh Mickey You're So Fine – well I mean really, how do you not tap your toes, dance in your seats, and sing along with all of that? And you just haven't lived until you've seen a group of mermaids, the daughters of Triton no less, doing their rendition of Beyonce's Single Ladies! The Disney characters even taught us a dance we could do along with them.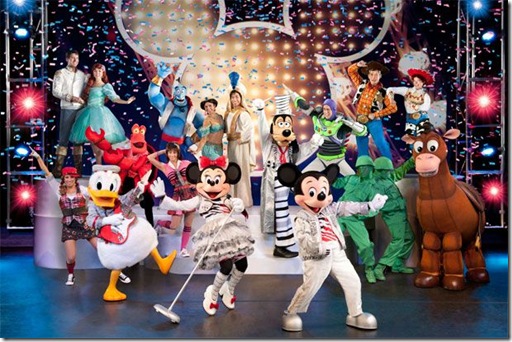 For those who love a good Disney story (and who doesn't?), we enjoyed the retellings (in mini recap fashion) of the stories of The Little Mermaid and Aladdin. Talk about love stories! Of course, each time we got to the romantic part, J hid his eyes in case they kissed. After all, he is 7!
The show grabbed our attention from the moment that Mickey rode in on his motorcycle and had us completely engrossed in it until the final curtain fell. We were still humming and singing the songs and tapping our toes on the ride home. If you have the chance to take your family to a performance of Disney Live, my advice is GO, GO, GO! When you see the looks on your kids' faces as they watch their favourite Disney characters come to life on stage in front of them, it's a moment you'll treasure forever.