Recently, I had an opportunity come up that I simply could not let pass by because it involves a cause that I am particularly passionate about: helping children live healthy lives. I am a teacher by profession and many times I have encountered children in my classroom who were lacking in the basic necessities they needed. In one of the schools I was in, the children lived in such poverty that my heart was broken on a daily basis by it. Now I am a volunteer Community Food Advisor in my city and I continue to meet parents struggling to provide for their families. When I learned about the Dial into Giving SIMPLE Service Project for Champions for Kids, I knew that I wanted to be one in a million to help Champions for Kids reach 20 million kids by the year 2020. The Dial into Giving SIMPLE Service Project aims to provide needy children with basic toiletry items. I've done some volunteer work at the local food bank and I can tell you from experience that toiletries are an often overlooked area in donations and yet, we all know just how crucial hand washing and cleanliness is in keeping germs at bay.
So, I am holding a donations drive to gather up soap and other toiletry items to be given to two local charities that work with children and teens. My first charity of choice is one that has some very personal meaning to me. It's the Women's Community House, a local shelter for abused women and their children. Often the families who end up there have had to flee their homes with only the clothing they are wearing. First priority in getting them settled into their new rooms is to give them some pajamas, a cuddle toy (yes even for the adult women), and some basic toiletry items. I know they are always in need of an adequate supply of toiletries.
My second choice is the Streetlight Bus. The Streetlight Bus is a mobile drop in centre for street kids in the London, Ontario area. They provide hot drinks, snacks, recreation, and social interaction for homeless kids living on the streets. They particularly appreciate small travel sized toiletries that they can hand out to the kids they encounter as they're much easier for them to carry around.
This coming weekend is Thanksgiving in Canada and that's where I'm beginning my quest to collect donations for the Dial into Giving SIMPLE Service Project for Champions for Kids. My family will be gathering together to express our gratitude for the many blessings we've been given and we'll be putting our gratitude into action by donating soap and other toiletry items to this cause. I also belong to a local women's social group and for one of our upcoming events, I've asked everyone to please bring a toiletry item with them to donate as well.
To start things off, I went shopping at Walmart. I was really pleased not only by the selection of items that I found but by the prices as well. It doesn't have to cost a lot of money to do some good! I found packages of Dial soap – 8 bars in the pack for only $3.97. Bottles of Dial liquid soap were only 98 cents. There were other brands of toothpaste, toothbrushes, and deodorant on sale for 94 cents each making them great additions to my cart. I picked out some travel size products too that will be perfect for the street kids coming to the Streetlight Mobile Centre. To see my shopping trip from start to finish, check out my Google + album.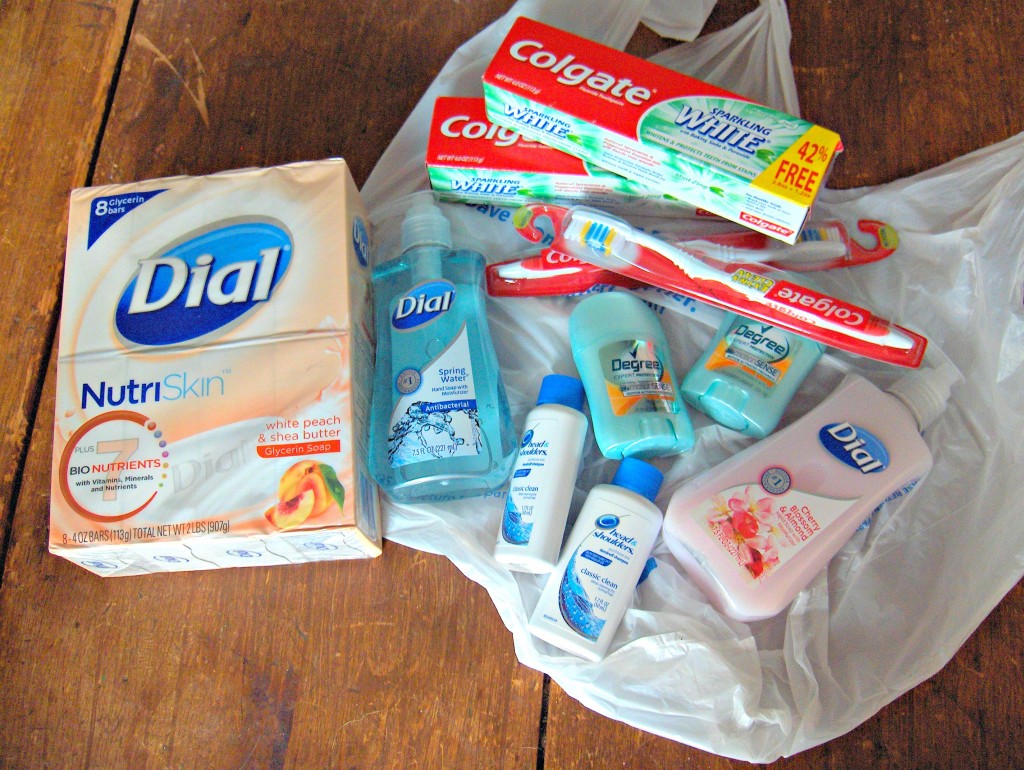 Just shopping for these items was so inspirational to me. With every product that I picked up, I thought about the kids who would end up with them to use. I thought, of course, of my own daughter and children in my family but also of the students I taught over the years and how much I would want to help any of them if they needed it. So, by taking part in the Dial Soap SIMPLE Service Project for Champions for Kids, I feel like I am making a difference and I am helping kids just like those that I've encountered in my life. I hope that by reading this blog post, you are also inspired to help. It doesn't take much money, it doesn't take much time, and it doesn't take much effort but it can make a huge difference in the life of a child.
Please check out Champions for Kids here:
And Dial here:
Website
"I am a member of the Collective Bias™ Social Fabric® Community. This shop has been compensated as part of a social shopper insights study for Collective Bias™ and Dial Soaps #DialCFK #CBias #SocialFabric"