I'm so excited to be participating in another Craft Lightning series hosted by Country Chic Cottage and 30 Minute Crafts! These crafts are all ones that can be done in under 15 minutes (minus drying time). Be sure to check out all the other great projects in this series and you can even share your own 15 minute holiday projects by clicking on the button above!
I love to pick out or make personalized gifts for my friends and family at Christmas time but sometimes, there are those people I just don't know as well or who really would appreciate a gift card more.  So, to make it more special, I like to make some kind of a crafty gift card holder to present the gift card in.  One of my favourite ways of doing this is with toilet paper rolls.  Did you know that when you flatten them they make the perfect sized pocket to hold a gift card?
The materials you'll need to make this are: paints in your chosen colours (I'm painting the eyes on as well but you might like to use googly eyes instead), paintbrushes, a pair of scissors, some glue, some double sided tape, a brad, a hole punch or something to punch a hole with, some trim (if you want – you can just stick with paint), a flattened toilet paper roll, and for this one I'm also using some cotton batting for his hair and moustache but you can simply use white paint for this as well.  You might want other embellishments like tiny buttons, glitter, sequins, and so on too.
I simplified the nutcracker's design to make this an easy painting project for anyone.  I began simply by painting on stripes of paint to represent the hat, the face, the jacket, the pants, and the boots.  I didn't put arms on him but you could add some – perhaps with a popsicle stick cut in half?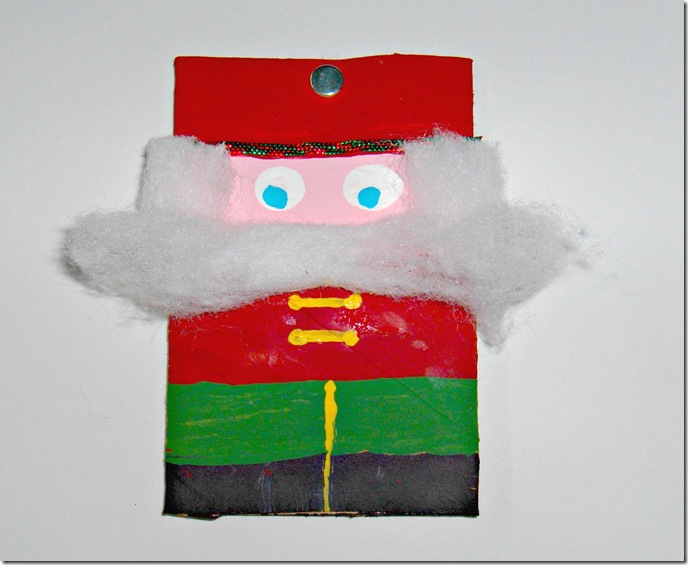 Once the paint has dried, you can add the details and embellishments.  I used some yellow paint to add the button/tab detail as well as a line to show the two legs and feet in the pants and boots.  I painted on eyes – didn't bother with a mouth because you can't really see it anyway.  Then I glued on the trim on the hat and the white cotton batting for the hair and moustache.  Put a piece of double sided tape inside the bottom edge to close that and poke a hole in the top for the brad so you can put the gift card in and hold it closed there as well.
This makes a really cute way to present a gift card to your recipient – something that shows you took the time and the care to make them something special!
Be sure to check out all the other great Craft Lightning Holiday Edition projects and link up your own 15 minute holiday projects by visiting the button below!