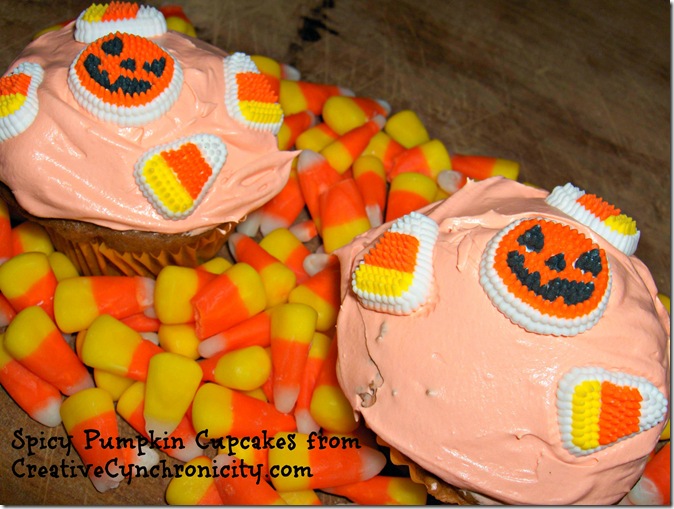 Don't these look delicious?  They are!  I made these cupcakes as a variation of a family favourite, my world famous Pumpkin Swirl Loaf! The secret is, they are much quicker and easier to make but still have all of the same great taste!
When I first heard about the new #CoolWhipFrosting, I was intrigued.  Cool Whip whipped topping products are standards in my home and the idea of a frosting with the same quality was definitely something I wanted to try.  I headed on over to Walmart to buy some.  Check out my Google Plus album for more pictures and details of my shopping trip.
The fact that it is a freezer product means I can keep it on hand for those times when I want to do some impromptu baking.  I have to admit – I'm not that big on baking very often.  It always seems like so much work so I tend to save it only for special occasions.  With this easy recipe and the #CoolWhipFrosting though, I found that now I can bake up a batch of delicious cupcakes simply to add some fun and festivity to every day.  And, here on Creative Cynchronicity, that's what we're all about!
Spicy Pumpkin Cupcakes
Ingredients:
1 pkg. spice cake mix (to make a two layer cake)
1 15 oz. can of pumpkin (not pumpkin pie filling, just pumpkin)
1 pkg. vanilla instant pudding mix (3.4 oz.)
1 cup chopped walnuts or pecans (optional but really yummy!)
#CoolWhipFrosting in cream cheese flavour (allow to thaw on your counter for about 1 hour or in your fridge for about 4 hours) (Note: I used red and yellow food colouring to make the frosting a festive orange colour and garnished with candy corn and cake decorations)
Instructions: Prepare the spice cake mix as instructed on the package.  Mix in the pumpkin and pudding mix,  Beat for 2 minutes until smooth.  Stir in the nuts.  Fill 24 muffin cups lined with cupcake paper liners.  Bake according to package directions (generally 18-25 minutes at 325-350 degrees F)   When cool, frost with the #CoolWhipFrosting.  One container will cover 24 cupcakes.
These cupcakes were absolutely delicious and the #CoolWhipFrosting was so easy to work with.  It makes it so easy to turn every day into a special occasion!  And, anytime I get to hang out with my grand nephew and grand niece, it's already a special occasion!
On Wednesday, October 24th at 1 pm EST, join in on the #CoolWhipFrosting Twitter Party! (RSVP link is coming in a few days – I'll be sure to update this post with it!).  Learn more great ideas for using it to make every day treats for your family!
Stay up to date with all the Cool Whip news and find recipe ideas on the Cool Whip Facebook page.
"I am a member of the Collective Bias™ Social Fabric® Community.  This content has been compensated as part of a social shopper insights study for Collective Bias™ and Kraft Cool Whip.  #CoolWhipFrosting #CBias #SocialFabric  All ideas and opinions are my own."