My life has been a bit stressful lately. Ok so actually that's an understatement. It's been very stressful lately. Daughter's wedding (for which I was making a lot of the stuff), daughter moving to the UK with her husband for two years, daughter having trouble finding a place to live in the UK and having to leave her cat behind with me, daughter finally arriving in the UK only to find that her husband didn't have the right paperwork with him and he was sent back to Canada, daughter being a tad bit freaked out at being in the UK all alone. (It doesn't matter if they're 6 or 26, you hurt for them and worry for them just the same!).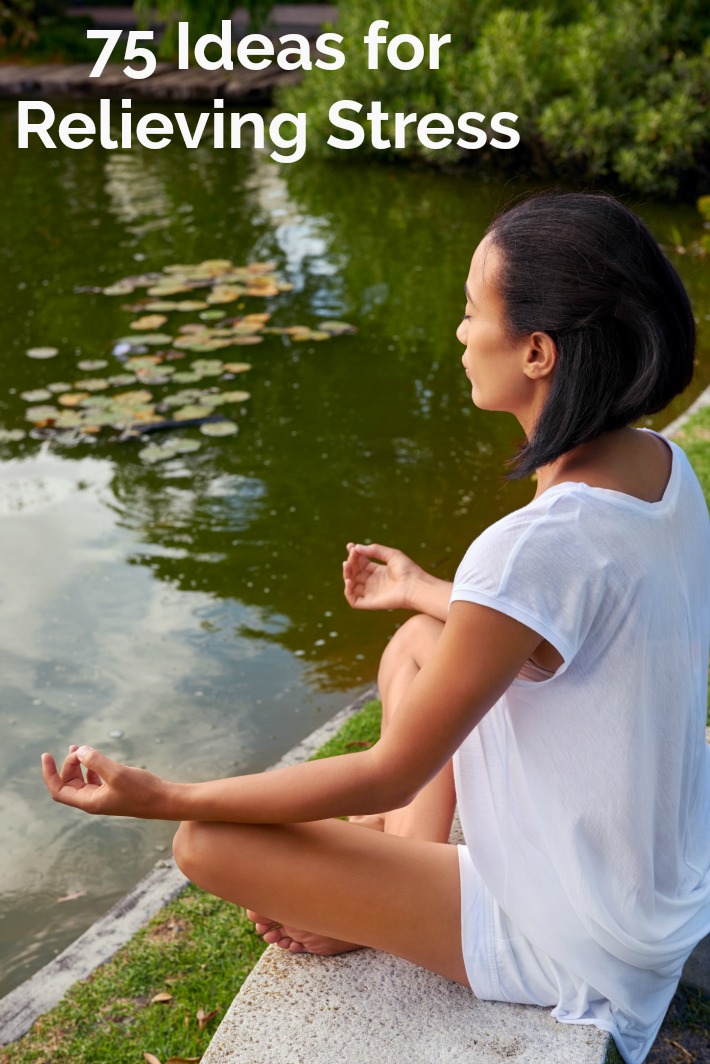 Needless to say, I'm in need of some relaxation STAT! Here are 75 ideas for relieving stress I've come up with so far:
A massage. Yeah I know – it's a bit obvious but sometimes when we're stressed we forget the obvious. Thing is, you might not have the time or money for this one so at least take a few minutes to indulge in a self-massage instead! No time even for that? Just rub lotion onto your hands and feet. Even that can do wonders.
Find a baby or small child to cuddle. Make them laugh and bask in the joy. No kids nearby? – try this video.
Go on a picnic. Even if your picnic simply means taking a few moments to get outside in your backyard to have a change of scenery for your meal. Or if you usually sit at the table, maybe have a meal in front of the TV where you can lose yourself in something mindless.
Dance. Dance around your kitchen, dance on your back deck, dance on a table – whatever floats your boat! Just put on some music that makes you feel good and dance away!!!
Have a nap. I know, I know. If you're in a stressful situation, you may feel you don't have time to nap and you may have trouble sleeping but even just lying down to give your body a rest can be helpful. Again, a change can be helpful too so if the weather's nice head outside and have your rest on a lounge chair or in a hammock!
Stretch! Do some yoga or simply stand up and move around. Reach up to the sky, reach out as far to each side as you can, drop down as if to touch your toes. Work those knots and kinks out!
Go outside after dark and howl at the moon. No I'm not kidding. My friends and I used to do this in high school and university during exams. Not into howling? Try a good loud scream instead.
Walk a labyrinth. Don't think you have one nearby? Google labyrinth and your location and you might be surprised by what you find. For those of you in Ontario, Canada here's a resource you can use.
Go to church. Ok so it's not Sunday and your church isn't open? Check out your local Catholic church. Often there are ones (especially the big ones right downtown) that are open during the day to allow people to go in and pray whenever they need to. You can also try calling your church. Many in my area will open the door for you and let you go in to pray for as long as you like if you just ask.
Go for a walk on a beach – and yes I even do this in fall and winter (assuming there's not 3 feet of snow at the time). Watching the waves lap against the shore, feeling the sand under your feet – it can all be so relaxing – especially if you go at a time when it's less likely that others will be there.No beaches nearby? Find a park or trail in your area and walk there instead.
Hit something! Ummm, golf balls that is! Go to a driving range and hit some golf balls. Not your thing? Hit a pillow. Throw darts at something – maybe a picture to represent what's bothering you.
Make a list. Maybe a pros and cons list would help with your current situation. Or maybe a list of at least 10 things you're grateful for. Or 10 positive things about yourself.
Doodle, sketch, or do some Zentangling. It can almost be meditative.
Get out the finger paints or play dough and be a kid again.
Go outside and watch the sunset.
Buy yourself an inexpensive bouquet of flowers. Inhale deeply. OR use some essential oil products which you find soothing. We bought my daughter a lavender balm to rub on her temples when things got crazy and it really helps.
Watch some fish swim around an aquarium or fishbowl.
Pet a dog or cat. Borrow one from a friend if you have to or see if some rescue pets could use a little extra loving.
Go to the playground and swing on the swings.
Write. Jot down your thoughts in a journal – just free flow without any editing. Write a letter to someone to get things off your chest and then tear it up and throw it away. Compose a poem (it doesn't have to rhyme!).
Relax in a hot tub. Don't have access to one? Even a nice hot bath can be helpful. I recommend adding Epsom salts and some essential oil to it for an extra soothing effect.
Sing. Loudly. It doesn't matter if you have a good voice or not – just pick some favourite tunes and sing away!
Look up at the night sky. Make a wish on the first star you see.
Just breathe. Sit down in a comfy spot and just slow down your breathing for a bit. Concentrate on each breath.
If it's a nice day, go outside, lie down and cloud watch for a while. Rainy day? Jump in some puddles.
Pray or meditate. You don't have to know the "right words" or the "proper technique". Just do it.
Reduce the noise level around you. Put on headphones if you have to and indulge in some peace and quiet – silence is even better.
Or crank the noise up! Sometimes it's just TOO quiet, you know what I mean? In those cases, I have a playlist all ready to go and I turn the tunes up loud! My morning rev up playlist can be a good one for this.
Talk to someone. Maybe you need a shoulder to cry on and just let it all out. Or maybe you need someone a little more impartial who can simply listen. Find someone and let it out.
Find some pictures of your happy place. Put them up where you can see them. I have some above my bed so that I see them first thing when I wake up and some in my office over my desk.
Take yourself out to eat. Go to your favourite restaurant or try a new one.
Go for a drive in the country. Just get in the car and go, letting your instincts be your guide.
Work with your hands – weaving, pottery, knitting, woodworking and so on.
Instead of a To Do list, celebrate your accomplishments with a Ta Da list.
Make yourself a comfort box. Fill it with items that soothe you – non-perishable food indulgences, books, CDs, DVDs, favourite photos, decant body lotion and so on. USE IT NOW!
Create your own personal toxic waste dump. Write down all the things bothering you and fill a box or can up with the slips of paper. You can even add magazine photos to represent these things as well. Bury it in the backyard or burn it or toss it away in the trash to symbolize emotionally letting go of these problems.
Play with a child. Play like a child. Pick your favourite game/toy from childhood – Lego? Candyland?
Do a crossword puzzle, word search, or Sudoku.
Clean out your purse or a drawer – something small and easily done in just a few minutes. Don't pick something that will just stress you out more.
Plant something. A garden, some herbs indoors in pots, whatever is suitable for that time of year. Or go outside and do some weeding.
In winter, make snow angels. Make a snowman. Go tobogganing. Come back inside for hot chocolate.
Go window shopping – in person or online.
Light a candle and just spend 10 minutes simply staring into it. Have a fireplace? A nice roaring fire works well for this too.
Hire a housekeeper – even if only for a one time house cleaning.
Go see a movie or watch one at home.
Juggle. Can't manage it with balls? Use balloons!
Blow some bubbles. Watch them slowly drift away.
Have afternoon tea time – use your fanciest teapot and cup and make it look all pretty.Or head to a local tearoom and make them do all the work.
Laugh! Create a file – either a scrapbook or a file on your computer – of funny jokes, silly videos, hilarious pictures and so on to refer back to when times are stressful.
Laugh some more. Ask people to send you their favourite jokes/videos/pictures.
Pay it forward. Do something nice for someone else. Put money in their parking meter, pay for person behind you in line at the drive through, leave a bouquet of flowers on a neighbour's front step.
Jump up and down.
Wear your favourite outfit. Put on makeup and do your hair. Sometimes feeling better about the way we look can really help our attitudes too.
Hug someone.
Unplug for a while. Social media can be a source of stress in itself.
Skip stones across the water. Or float a boat down the river.
Go through your favourite family photos.
Get in touch with an old friend you haven't heard from in ages.
Paint a room. Or just make a new pillow cover for one of your throw pillows. Put up new curtains. Do something to change up your environment and brighten it up a bit.
Fly some paper airplanes.
Put together a jigsaw puzzle.
Go to the library and browse through the books.
Read aloud – to yourself, to your kids.
Wrap your favourite blanket around yourself and have a good cry.
Speaking of blankets, make a fort out of some. Crawl in and hide for a while.
Plan a vacation. Start doing the research for it so you have something wonderful to look forward to.
Colour in a colouring book.
Go bird watching.
Invite some friends over for a pajama party.
Fly a kite.
Do some acupressure on yourself. Or get a professional to do it. I also find acupuncture very soothing but that do the opposite for you if you're needle phobic.
Chew some gum. Seriously, it's been proven to work.
Eat a banana or potato. Potassium helps to regulate blood pressure which of course can rise in times of stress. (Oooooh good excuse for potatoes being my comfort food!)
Drink water. Drink more water. Now drink even more water. You need to stay hydrated!
Play a game. Yes those games on Facebook and your iPad and so on often seem like really silly useless wastes of time but a few minutes spent on one of them can give your brain a break.
Don't you all wish we could relax like Trinity our German Shepherd can?
Originally posted September 30, 2014