Can you believe it's September 1st already? Labor Day weekend is nearly over and the kids are going back to school and back to extra-curricular activities. This can make finding the time for family fun even more challenging! 
It's not impossible though, especially with these ideas for 15 Minutes of Family Fun in September!
I'll be honest. Sometimes our family time was simply spending some quiet down time together because we were just too tired to do anything else! September was a hectic month and all of this increase in activity was exhausting. These ideas for 15 minutes of family fun in September are mostly low-key but they will help you keep the connection going. 
And remember, family fun doesn't have to take much time. Other related lessons? Fun doesn't have to be complicated. It doesn't have to be expensive. It just has to be fun.
15 MINUTES OF FAMILY FUN IN SEPTEMBER
Special Days in September
~ September 7 is Backwards Day. How about eating dessert first at dinner time?
~ September 18 is Play Dough Day. Make or buy some play dough and just enjoy some time together simply playing around with the dough. Or make some play dough faces of each other.
~ September 26 is Johnny Appleseed Day. You can read a book on Johnny Appleseed together and maybe work in the kitchen to make a simple apple crisp for dessert.
~ September 29 is Pumpkin Day. Go to your favorite bakery or donut shop and treat yourselves to a yummy pumpkin treat.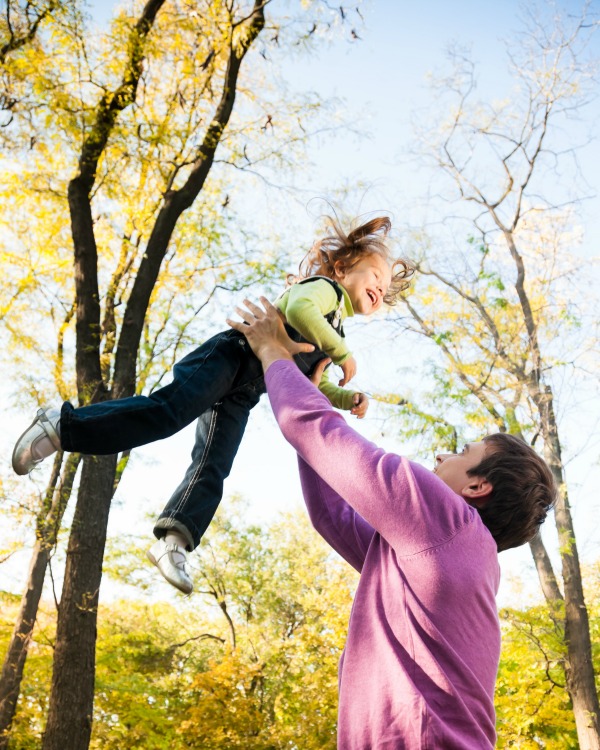 Outdoor Activities
~ When the leaves start to fall, gather up a few and show your kids how to make some leaf rubbings.
~ As the birds start to make their way down south for the winter, take some time to do some bird watching. Just enjoy the experience of observing and pointing out the birds. Or, grab a guide book and keep track of the ones you see.
Find some pine cones and make some creatures out of them. Add pipe cleaners, pompoms, and other craft materials from the dollar store and see what kinds of pine cone people and animals you and your kids come up with!
Indoor Activities
~ Take a selfie together. See who can make the funniest faces. Use filters to add even more silliness.
~ On the first of the cooler, more autumn-like days, cuddle up together and look through some old family photo albums or scrapbooks. Kids always love to see their baby pictures or pictures of their parents when they were younger.
~ How about starting a family journal? Take some time to sit down and write in it together about the things going on your lives lately. Or work side by side and add some illustrations to it.
~ The days are getting shorter. Take advantage of the early darkness and do something special before bedtime on Saturday nights. Have a bedtime snack picnic by candlelight (or backyard lanterns). Cuddle up on a blanket under the stars for story time.
What kinds of fun activities will you be doing with your family this month? For more ideas, check out previous 15 Minutes of Family Fun posts here.